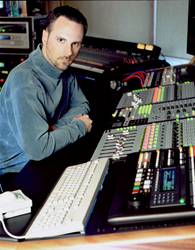 Once my students graduate, having this crowdfunding knowledge could help them to finance the production of their own video game, album, tour, film, software, equipment, or whatever they devise that represents their creative dream.
Miami, FL (PRWEB) October 22, 2014
Grammy-winning audio engineer/mixer and SAE Miami Audio Technology Program faculty member Charles Dye is leading a crowdfunding campaign for "Two Secrets", an independent film project that he's written and will be directing. The film is the true story of Ali Dolan, a champion triathlete, motivational speaker, and media executive who was abandoned at birth in 1987 and didn't discover her "secret" until she was 12 years-old.
"'Two Secrets' is a powerful coming-of-age story with a shocking ending that challenges each of us to become the person we keep hidden inside," says Dye, who has worked on top hits for Jon Bon Jovi, Shakira, and Aerosmith. "The project has attracted some jaw-dropping talent who normally work on much bigger projects to join our team. How far the film goes is beyond our control, but our goal is to make it Oscar-worthy."
After looking at 2,000 actresses for the lead role, Cassidy Mack was cast as Janey. Cassidy has been in the films "Zoey to the Max", "Chilly Christmas", and "Zombeo & Juliecula". Her non-profit foundation, Love Gives Chances, focuses on empowering foster youth. Katie Burgess, whose credits include roles in the films "Self-Delusion and Other Obstacles", "The Lamp", and "This Christmas", plays Janey's best friend, Stephanie.
The film's producers are Jay Riggs, the executive director of the foundation Will Play For Food, and whose former clients include Jay Leno, the Gin Blossoms, and Brian Vander Ark; and Merem Ersoz, a feature filmmaker who has worked with Jessica Alba, Luke Wilson, and Malcolm McDowell.
"From Michel F. April, our composer, to Alexx Calise, a singer/songwriter who will be featured on the soundtrack, everyone who's involved with 'Two Secrets' has a special connection to the story," says Dye, who recently mixed the track "Perdón, Perdón" by HA*ASH (Sony Music), which debuted at #1 on iTunes two weeks after its release. "The script seems to touch everyone who reads it."
Dye met Dolan five years ago when they were both working at The Kitchen, a video production facility in Miami. A former screenwriting student at UCLA, Dye asked Dolan – whose story has been featured on "Anderson Cooper Live", "Good Morning America", ABC News, NPR, The New York Daily News, and in Glamour Magazine - if she'd agree to having the details of her life serve as the basis of a screenplay, and Dolan agreed.
"'Two Secrets' is a non-Hollywood story, so traditional film investors aren't an option for us," says Dye, whose crowdfunding campaign is being offered on FundRazr and will continue until the needed financing is raised. "We're asking the public to help us make this beautiful film that we believe could truly impact the world."
Dye is sharing the details of his efforts to fund "Two Secrets" with his Audio Technology Program students at SAE Miami, because he feels it's important to teach them valuable entrepreneurial options that can help their careers.
"Once my students graduate, having this crowdfunding knowledge could help them to finance the production of their own video game, album, tour, film, software, equipment, or whatever they devise that represents their creative dream," says Dye.
*
About SAE:
SAE Institute provides aspiring creative media professionals with a foundation of practical theory and valuable hands-on training in their chosen areas of concentration. Under the guidance of our faculty, which is comprised of working industry professionals, students gain the essential experience they need for entry-level jobs in the entertainment business. Our students are supported in their job searches by SAE's international network of alumni, many of whom are leaders in the music, film, game arts, and live performance arenas. We offer programs in audio technology across our seven US campuses, along with a music business program at select locations, all fully accredited and focused on preparing students for employment when they graduate. Bachelor's Degree programs in Animation, Audio, Film, Game Art & Graphic Design are available at the two locations of Ex'pression College, which is owned and operated by SAE Institute Group, Inc. SAE Institute Group, Inc. is a part of Navitas LTD. Learn more at USA.sae.edu.
About Navitas:
Navitas is an Australian global education leader, providing pre-university and university programs, English language courses, migrant education and settlement services, creative media education, student recruitment, professional development, and corporate training services to more than 80,000 students across a network of over 100 colleges and campuses in 27 countries. Learn more at Navitas.com.