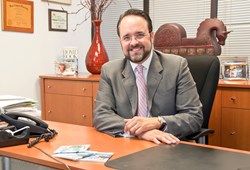 We enter 2014 with more Financing Programs for the Local Home Buyer!
Miami, FL (PRWEB) January 09, 2014
The New Year predictions regarding the real estate industry are very positive, with great activity expected from buyers and sellers, as well as new-construction developers. An increase in long-term interest rates is also expected, making it very attractive for bankers and lenders to finance mortgages in the South Florida marketplace.
"After years of local lenders being 'extremely cautious' with their distribution of funds, now that the housing market has rebounded, and home values have increased with prices stabilizing, after years in decline, it's a great opportunity for lenders to start offering their loans to finance home purchases secured by a solid collateral based on the revalued asset," says Emilio J. Cardenal, Broker and CEO of Interinvestments Realty.
"Periodically we have availability of county or state bond money," says Saul Blanco, a partner of Residential Finance Corporation, which has worked throughout the years with prestigious builders such as Lennar Homes and Century Builders. "These funds generally come in the form of forgivable second mortgages as long as the buyer stays in that property for a specific amount of time."
"The buyer's qualification is based upon income limits for the specific county and attending a course, or seminar instructed by authorized agencies," explains Blanco. "One drawback of getting a buyer pre-approved using some type of bond funds is the reluctance of some sellers to accept contracts where the buyer is in the process of securing these funds."
"In our market, there has been more demand than real supply in recent times, especially in the lower to moderate price range," continues Blanco. "The seller in this case may have several offers and will tend to take the offer with more financial strength."
"With higher demand for properties, new-construction has made a strong comeback in our market," adds Blanco. "Buyers are looking at a builder's present and future inventory as a way to eliminate the frustration of being one of several offers on a resale property. The builder will generally offer closing costs incentives to the buyer and these incentives could be higher if the buyer selects an existing inventory home in which the builder is paying interest on their construction loan."
"Another incentive is the fact that the property is new, with no time spent on costly repairs and under a future warranty," concludes Blanco.
If you want more information about how to buy a new-construction or resale property, be interviewed and fully qualified by our preferred lenders, and know about the possibility of buying your own home by using the government financing programs available in the current market, please contact our Corporate Office at the telephone number that appears in our contact information, next to this communication.