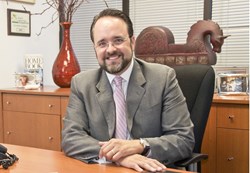 Homeclick.us will make our Agents more efficient and productive!
Miami, FL (PRWEB) August 29, 2013
"Homeclick.us is new software that will facilitate a search for properties on the market and at the same time will allow the sharing of this information with their buyers and sellers," says Emilio J. Cardenal, Broker and CEO of Interinvestments Realty.
"Homeclick.us is a mobile devise that is designed to be used with Samsung and iPhones. Our agents can select the properties that they want to promote, with a feature very similar to the shopping cart concept, and within seconds, they can share with their customers any property brochure and interactive map," explains Cardenal.
"Interinvestments Realty recognizes that our associates spend most of their time showing properties, and setting up the appointments to have access to their showings. This demands a great amount of their time and energy. So this mobile devise will be a powerful tool, helping them to make their presentations more effective and effortless," continues Cardenal.
"Homeclick.us also will be a great asset for our international Brokers while traveling abroad for overseas presentations," adds Cardenal.
"One category in the software that will be extremely helpful and attractive to our clients is the closed sales report, which is divided by neighborhood and Zip Code. This will allow our buyers and sellers to estimate the current property value and analyze the different trends in the marketplace," finished Cardenal.
The following is the selection of two new-construction communities that Interinvestments Realty is proud to promote:
1. Marina Palms Yacht Club and Residences. The development is located in Aventura, FL.; it will consist of 486 luxury waterfront residences in two towers overlooking a 110-slip marina. A real nautical enthusiast's dream! The condominiums are 2, 3, and 4 bedrooms. They range in size from 1,821 sq. ft. to 2,589 sq. ft. Price Range: $650K to $1.7M. The south tower will be ready to release in early September.
2. The Tides in Cutler Bay is a gated community inside Isles at Bayshore and has less than twenty homes left. This is one of the few new communities where a purchaser can buy a new home in Miami for less than $300K. One of Lennar's most popular and successful master-planned communities, especially among first-time homebuyers. It's ideal for a growing family for whom affordability, value and lifestyle are essential. It is a private neighborhood of only 83 single-family homes. The residences are 3, 4, and 5 bedrooms, ranging in size from 1,540 sq. ft. to 2,784 sq. ft. Price Range: $253,990 to $283,990.
If you want to receive more information about new-construction and resale properties in the South Florida area, please contact our Corporate Offices at the telephone number that appears in the contact information, next to this communication.