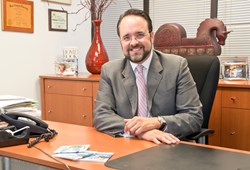 Our New Training, Bootcamp Series For Real Estate Agents will Enhance Efficiency and Productivity.
Miami, Florida (PRWEB) September 19, 2013
The integration of the mentioned softwares will allow Interinvestments Realty's associates to first obtain all the relevant information on a property, use Forms Simplicity to complete the sales and purchase contract online, and finally pass the finished contract into the Dotloop program in order to prepare the package of documents to be executed by the buyers and sellers' electronic signature. This is a fast and easy way for our agents to complete a real estate contract from start to finish, and send it out to the pertaining parties, for their electronic execution, in less than ten minutes.
"During Bootcamp 1 the Interinvestments Realty agents will learn how to produce a real estate contract faster and send it to their clients for their electronic signatures in just minutes," says Emilio J. Cardenal, Broker and Chief Executive Officer of Interinvestments Realty.
"Salman Ali, will be our instructor for Bootcamp 1. Mr. Ali is an experienced real estate associate in our office and has a degree in Economics from Florida International University and also a degree in Information Technology from Informatics College," continues Cardenal. "Our final goal is to complete a real estate transaction completely paperless."
"Using this combination of programs will allow us to present our offers faster, which is essential in today's market, where the inventory is scarce and many buyers are bidding for the same property. Being the first in this bidding war could be an obvious advantage," adds Cardenal. "It will also save our agents and clients' time, a very precious commodity in today's world."
"The Bootcamp Series for Real Estate Agents will be an exclusive training for the Interinvestments Realty's associates. This technological tool will be a great improvement to the existing platform where we conduct our business. As a company, Interinvestments Realty is at the forefront of technology, this keeps our associates ahead of the competition," finishes Cardenal.
If you want to receive more information about our technological training and programs, or if you want to be part of our selling team of associates that sold more than 5,000 new-construction properties in 360 different developments for a grand total of $2.5B in sales, we invite you to call us immediately for a private confidential interview at the telephone number that appears on our contact information, next to this communication.