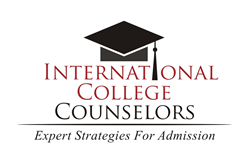 If a university finds out a student has lied, rejection is almost guaranteed.
(PRWEB) July 21, 2016
Across the country, high school students are writing their college essays and getting ahead on their college applications. A number of these students are getting inspired by college essays they find on the Internet or getting professional help from companies like International College Counselors.
"As long as a student is not copying parts of someone else's essay or the editor is not writing a student's essay, help on college admissions essays is ethical," said Mandee Heller Adler, president of International College Counselors.
As just played out at the 2016 Republican National Convention, plagiarism is not smiled upon whether it's in a speech or in an essay. Plagiarism is always wrong and schools are getting better at detecting it.  Colleges use plagiarism-prevention services like Turnitin.  This service and others like it compare college application essays to a huge database of collected information and what's already on the web. 
Lying on the college application or in the essay is also to be avoided. If a university finds out a student has lied, rejection is almost guaranteed.  To uncover lies on the application, colleges do research of their own.  They may look for inconsistencies and follow up on them or even do random checks. College admissions officers have called up high schools to verify activities and awards.  They have also checked with jobs, internship organizers, and places where students have performed public service.  Thanks to the Internet, it's easy to see if a student really has received a major award or a significant ranking, whether it's in music or sports. 
Embellishing the truth is a grey area.  If a student participated in a 5K race for cancer awareness, this should not be written as, "Helped find a cure for cancer."   Of course, there's nothing wrong with presenting yourself in a positive way.  This is where ethics (and clever adjectives) come into play.
"Students should be themselves - a more interesting, more attractive, more eloquent version of themselves," said Adler.  "At International College Counselors, we believe that every student has a gem of an essay within them.  What they need to do is find that kernel of truth – and remember to proofread."
For help with your college essay or college guidance, visit http://www.internationalcollegecounselors.com or call 954-414-9986.
About International College Counselors
The college advisors at International College Counselors help students from all over the world find, apply to, and gain acceptance into the college of their dreams. The expert educational consultants at International College Counselors are dedicated to helping students and their families successfully navigate the college admission process.
Additional Resources 
From Public School to the Ivy League: How to Get Into a Top School Without Top Dollar Resources by Mandee Heller Adler and Aimee Heller, International College Counselors