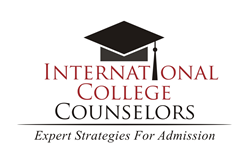 You have been invited to talk to the future U.S. Secretary of Education. What would you say?
(PRWEB) February 08, 2017
International College Counselors, one of the world's most successful college and graduate school admissions counseling businesses, is accepting entries for the 2017 International College Counselors Scholarship. The company is giving away two $250 scholarships. High school freshmen, sophomores or juniors must write an essay that addresses the following topic:
You have been invited to talk to the future U.S. Secretary of Education. What would you say?
Essays must not exceed 500 words. Two winning essays will be selected: one from a student in Miami-Dade County, Broward County, or Palm Beach County; and one at large winner from anywhere in the world, domestic or international, including home schooled students. Each winner will receive a $250 check. The goal of the International College Counselors Scholarship is to increase awareness of the value of higher education among students.
Essays must be submitted by March 1, 2017. More information can be found at http://www.iccscholarship.com
This is the seventh year International College Counselors has been awarding college scholarships.
About International College Counselors
The college advisors at International College Counselors help students from all over the world find, apply to, and gain acceptance into the college of their dreams. The expert educational consultants at International College Counselors are dedicated to helping students and their families successfully navigate the college admission process. Mandee Heller Adler, CEO and founder of the firm authored the book "From Public School to the Ivy League: How to get into a top school without top dollar resources" which now serves as a guide for public school students everywhere on how to get into college. Her second book, "International Admissions: How to get accepted to U.S. Colleges" is due out later this year.
For help with undergraduate college admissions, college essays or graduate school admissions visit http://www.internationalcollegecounselors.com or call 954 414-9986.