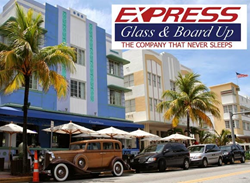 We are known as the leading glass repair service in big cities like Miami or Ft. Lauderdale
Miami, FL (PRWEB) September 05, 2014
Express Glass and Board Up, one of Miami's top commercial and residential glass repair services, is proud to announce a new blogging project on smaller cities in South Florida. With rapid growth in the region, the company is experiencing more and more inquiries from smaller cities in Miami-Dade, Broward, and Palm Beach counties.
"We are known as the leading glass repair service in big cities like Miami or Ft. Lauderdale," explained Yani Santos, general manager of Express Glass. "Yet, where one city ends and another begins can be mystifying in South Florida. Therefore, we are starting an ambitious marketing and blogging project to reach out to smaller communities."
Smaller Communities in South Florida
The first blog post in the series focuses on Wellington, Florida, a city in Palm Beach county. (To read the blog, please visit http://www.expressglassfl.com/blog). Additional blog posts are planned for cities such as Coral Gables, Pinecrest, Aventura, Miami Beach and Kendall in the Miami area. With a population of just 49,000, for example, Coral Gables is roughly one tenth of the size of Miami. But size should not matter when it comes to glass repair services, whether for a business or for a home. Express Glass and Board Up is committed to servicing the needs of smaller communities like Coral Gables as well as the larger cities such as Miami. When a business needs a commercial glass service, or a homeowner needs a residential glass service, the point of the blog series is to explain that Express Glass & Board Up services the entire region - Miami-Dade, Broward, and Palm Beach Counties, including many of the smaller cities in each county.
For information on Miami glass repair services, both residential and commercial, please visit the company's Miami page at http://www.expressglassfl.com/miami-glass-window-repair/.
About Express Glass and Board Up
Express Glass and Board Up Service Inc. is a family owned and operated glass repair business with more than 20 years of experience. Their professional technicians and the large variety of inventory make Express Glass the top glass repair service. If customers are looking for Miami glass repair or Miami glass repair as well as glass repair in Delray Beach or West Palm Beach glass repair, please reach out to the company for a free estimate. If customers need a 24/7 Sliding Glass Door repair service in Miami or Boca Raton or Miramar, technicians are standing by. The company specializes in sliding glass door repair and window glass repair; technicians will handle any glass replacement situation efficiently. Home or business glass repair is the company's main priority.
Express Glass Repair and Board up
http://www.expressglassfl.com/