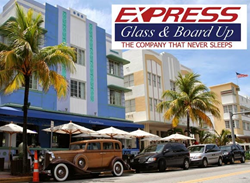 Fast response time and an extensive knowledge of how to repair glass for businesses are equally important attributes. Our 'think piece' helps customers think through how to identify the best service for their repai
Miami, FL (PRWEB) May 11, 2015
Express Glass Repair and Board Up Services (http://www.expressglassfl.com/), a top Miami commercial glass repair company, has announced their latest informative post on the differences between commercial and residential glass repair services for the greater Miami area, with a specific focus on what being the best means to each type of customer.
"Our customers often start out looking for the cheapest commercial glass repair service in Miami," explained Yani Santos, general manager of Express Glass. "However, price is not the only objective. Fast response time and an extensive knowledge of how to repair glass for businesses are equally important attributes. Our 'think piece' helps customers think through how to identify the best service for their repair needs."
To read the full blog post, please visit http://www.expressglassfl.com/blog/window-replacement/being-number-the-no-1-window-replacement-service-in-miami-some-thoughts/. There, in addition to a discussion of service characteristics, one can browse the website for more information on glass repair services offered to both commercial and residential customers in Miami-Dade County and environs.
Honesty is the Best Policy Towards Customers
Consumers turn to the glass repair professional with a questioning mind. For example, should a broken glass door be replaced, or just repaired? The best choice for a damaged track on a sliding glass door may mean either. In the "think piece" post, Express Glass notes that this is where a professional shares their knowledge so the property owner can identify the best choice. A professional glass repair expert knows property is an investment and wants customers to get the most out of their sliding glass door. This is especially true for commercial establishments, but even consumers recognize that cheap in the short run may not be cheap in the long run.
Express Glass & Board Up commits to telling the customer his or her options. If, for example, a cheaper repair can keep the glass door working for another ten years, they will confirm that is the best choice. If the sliding door track is badly damaged and needs a replacement, a glass door repair expert will explain why paying more for a glass replacement is the best choice.
Whether the glass door is in an apartment, residential or a business, property owners understand smart repairs are the best long term choices. Sharp property owners know hiring experts who are smarter than they are about repairs to broken glass doors is key. The hope is that the "think piece" will serve as a sounding board for better communication between customers and Express Glass.
About Express Glass Repair and Board Up
Express Glass and Board Up Service Inc. is a family owned and operated glass repair business with more than 20 years of experience. Their professional technicians and the large variety of inventory make Express Glass the top glass repair service. If customers are looking for Miami glass repair or Miami glass repair as well as glass repair in Delray Beach or West Palm Beach glass repair, please reach out to the company for a free estimate. If customers need a 24/7 Sliding Glass Door repair service in Miami or Boca Raton or Miramar, technicians are standing by. The company specializes in sliding glass door repair and window glass repair; technicians will handle any glass replacement situation efficiently. Home or business glass repair is the company's main priority.
Express Glass Repair and Board up
http://www.expressglassfl.com/