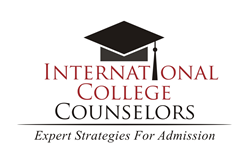 College admissions officers read the letters of recommendation and a good one can boost college admission chances. Students must do their best to secure the best letters possible.
Miami, Fla (PRWEB) September 30, 2015
One of the most important parts of the college applications isn't even written by a student and that's the Letter of Recommendation. Most private colleges want one counselor and one or two teacher recommendations. And they don't want just any old recommendations or a laundry list of accomplishments. They want a letter of recommendation that describes a student's skills, accomplishments, and character.
"College admissions officers read these letters and a good one can boost college admission chances. Students must do their best to secure the best letters possible," said education consultant Mandee Heller Adler, CEO of International College Counselors.
Here are some tips from education consultants at International College Counselors for securing good letters of recommendation:
1. Stay Organized. No one doubts a high school student is busy, but organization is essential when planning to complete a college application. Know the deadlines and make sure to stay on top of them. This leads to the next tip.
2. Start Early. Teachers and others have limited time, so do not wait until the last minute to ask for letters of recommendation. In fact, seniors should be asking for recommendation letters now. A recommender needs time to write a thoughtful and articulate letter. The more time a recommender has, the more time he or she may have to write something reflective and complete.
3. Choose recommenders wisely. Students need to choose recommenders who like them and are enthusiastic about them. Teachers typically like students who have great attendance, few or no tardies, actively participate in class, are well behaved, and get good grades. Plus pick a teacher or counselor with enough knowledge to write something special. The best recommendations provide insight about a student. So choose someone who can write about talents, abilities, success, and more. Keep in mind, students rarely see the letter that is written about them, so the letter needs to be from someone with whom they are feel comfortable.
4. Make an appointment. Don't just thrust the letter template into a teacher's hand between class periods or tackle a coach in the locker room. Additionally, school counselors usually have a full schedule. Making an appointment shows respect for a person's time. It also ensures that there will be time to go over the information a recommender needs to write a strong recommendation.
5. Provide support. At the meeting, make sure to give the recommenders everything they might need to write the letter and submit it on time. This will help ensure that the recommendation letter will be properly detailed. Students also gain extra points with recommenders for showing them that they are taking this process seriously.
Information to provide to the recommended should include: a full name, address, email, phone number; deadline information; and detailed examples of any relevant activities, accomplishments, and achievements. For example, mention specific work or projects that were worth being proud of, review what was learned in their class, and-or mention any challenges that were overcome. Plans for college and the future are also good discussion points. Do not send the recommender a resume with a list of everything, unless they ask for it. The recommender should be writing about the student they know and not relisting resume points. For a high school counselor or other reference who may not know a student too well, a resume should be provided.
6. Follow Up. Follow up with your recommenders a week or so before recommendations are due. This way students can make sure the letters have been sent. Once a student has confirmed that the recommendations have been sent, show appreciation by sending a thank-you note. Remember, recommenders are doing students a favor.
About International College Counselors
The expert educational consultants at International College Counselors are dedicated to helping students and their families from across the country and all over the world find, apply to, and gain admission to the college of their dreams. To learn more about successfully navigating the college admissions process, please contact expert college advisors at info(at)internationalcollegecounselors(dot)com or call 954-414-9986.