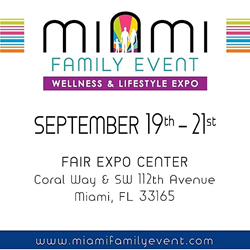 Come celebrate the little things in life
Miami, FL (PRWEB) June 12, 2014
We are pleased and excited to announce the return of the annual Miami Family Event Wellness & Lifestyle Expo which will be held September 19-21, 2014 at the Dade County Fair & Expo Center in Miami, Florida. This event has an expected attendance of over 20,000, with a variety of potential customers for each one of our sponsors. The 2014 Miami Family Event will be larger and with even more sponsors this year. Last year, approximately 200 sponsors partnered with MFE and promoted their companies within the South Florida community. This year, the event will include an outdoor and fitness area for more promotional opportunities for sponsors where more fitness activities will take place!
Some of the top national and local companies that were present in the 2013 Miami Family Event were Bass Pro Outdoors, Home Depot, MetroPCS, Leon Medical Centers, Texas de Brazil, Costco, Careplus, CAC, AARP, Tenet Hospitals, Legoland, BJ's Wholesale, The Miami Heat, Humana, Comfort Healthcare, AIO Wireless, Molina Healthcare, United Healthcare, The Miami Dolphins, The Miami Marlins, Interamerican Medical Centers, Preferred Health Care, Medica Health Care,The Florida Panthers, Nesquik, Miami Seaquarium, Toys R' US, Babies R' US, Sergio's Restaurant, Badia Spices, Boston Market, MCCI, Continuecare, Multiphone ,Goya, Adrienne Arsht Center, Zoo Miami, Florida Blue, University of Miami, Florida Intl University, March of Dimes, Autism speaks, Memorial Plan, University of Florida Dental Centers, The U.S. Armed Forces (All 5 Branches), Metro Dade Police & Fire Department, Florida Department of Emergency Management, National Weather Service, to name a few. Visit http://www.miamifamilyevent.com to find more information and sponsors.
The Miami FamiLY Event has partnered with The American Heart Association's "Go Red for Women" campaign, a movement encouraging awareness of woman and heart disease. Once again the AHA will demonstrate their community outreach with a large presence at the event. Part of the proceeds of the Miami Family Event will go towards life-saving research. Thanks to last year's Miami Family Event, we were able to donate funds to the American Heart Association "Go Red for Women" as well as increase awareness of heart disease in our community.
2014 will be the launch of the Greater Miami/Ft. Lauderdale Go Red "Por Tu Corazón" event! Hosted by Michelsen Advertising and The Miami Family Event; Wellness and Lifestyle Expo on Friday, September 19, women will receive free health screenings, Hands-OnlyTM CPR training, healthy cooking demonstrations, and educational information on heart-health symptoms and prevention.
"We are confident in the multicultural impact Go Red "Por Tu Corazón" can make across South Florida, especially with the support of key community leaders, sponsors and volunteers." --- said Dan Thorpe, Executive Director and Vice President of the American Heart Association
Go Red for Women encourages awareness of the issue of women and heart disease, and also the action to save more lives. The movement harnesses the energy, passion and power women have to band together and collectively wipe out heart disease. It challenges them to know their risk for heart disease and take action to reduce their personal risk. It also gives them the tools they need to lead a heart healthy life.
This exciting 3 day event will focus on the well-being of seniors, children and families. It will bring all generations together allowing businesses to reach out, present, educate, sample and sell to both primary and secondary target groups, while making it beneficial, informative and entertaining for the whole family. Stages in each area will have speaker and demonstration opportunities for the sponsors to promote their activation.
At the Miami Family Event there will be extensive media coverage in General market and Hispanic media outlets, both prior to and on site at the event throughout the entire weekend. Our media partners make it a point for the entire South Florida community to know that on the weekend of September 19th-21st MFE is the place to be with the entire family!
About Miami Family Event
Miami Family Event provides an annual platform for community members to access social and financial services, health resources, lifestyle choices, educational benefits and other key services from major companies all in one area reaching out to their consumers on a first name basis. MFE celebrates the little things in life with the entire family throughout this three day event with the best of Miami's activities, services, and entertainment!
Sponsorship opportunities still available but are limited! For more information contact: Andrew Orozco - AOrozco(at)MiamiFamilyEvent(dot)com – 786-594-0414