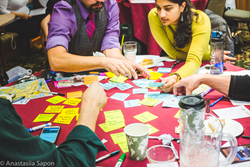 Sea-level rise, which is a result of climate change, isn't hypothetical in Miami. It's a fact.
(PRWEB) January 29, 2015
Although Florida is known for its year round sunshine and glamorous beaches, the state is often hit by natural disasters, such as hurricanes, and climate change is a very real danger for the peninsula.
With that in mind, the Field Innovation Team (FIT) is headed to the Sunshine State for the first time to lead the Miami DO Tank at the University of Miami.
The unique event is scheduled for Feb. 5 from 9 a.m. to 4 p.m. at the school's Student Activities Center, where FIT will utilize its signature games for participants to discuss climate change and consider new approaches to disaster preparedness.
"Sea-level rise, which is a result of climate change, isn't hypothetical in Miami. It's a fact," said Lien Tran an assistant professor of interactive media at the University of Miami. "Optimistic estimates suggest that Miami could be under water within the next century, but there are experts who believe the city of Miami will start deteriorate as a result of sea-level rise in a matter of a few decades."
Tran teaches at UM's School of Communication's Cinema & Interactive Media Department.
FIT doesn't just lead a day of seminars and talks with experts -- for a more impactful session, staff leads participants through interactive activities.
"We believe in more action, less talking," said Desi Matel-Anderson, chief wrangler at FIT. "By partnering with communities to 'do' a simulated disaster preparation and response, we are demonstrating how the strength of local talent and concerned citizens can be harnessed for community resilience."
One of the games is "REStrukt," created by Tabatha Soltay, which brings together different community players through a card game. Each participant uses their expertise to work with others in a mock disaster situation, learning about how each works in their sphere, and how to use their strengths together.
FIT is a nonprofit that not only responds during disasters, but also works to evaluate disaster risk and preparedness plans. Matel-Anderson worked with the Federal Emergency Management Agency (FEMA) to design its think tank. Late last year, FIT also worked with the Canadian government, United Nations, and climate change experts to come with up a 10-year plan of action. The Miami DO Tank is a part of this.
Tickets for the Miami DO Tank are $17 and includes lunch -- tickets can be purchased online here (http://www.brownpapertickets.com/event/1121828). For more information on the event, visit FieldInnovationTeam.org or e-mail info(at)fieldinnovationteam.org.