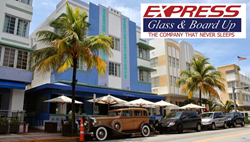 Real estate sales in Miami is improving, so our blog about upgrading glass doors and windows resonates with home sellers
Miami, Florida (PRWEB) August 12, 2015
Express Glass Repair and Board Up Services (http://www.expressglassfl.com/), a top Miami Glass Repair and Replacement Company, announces an expansion of its July and August blog series that explains the benefits of replacing glass windows and doors in Florida's real estate market.
"Real estate sales in Miami is improving, so our blog about upgrading glass doors and windows resonates with home sellers," commented Yani Santos, general manager of Express Glass. "We get calls from customers asking about glass replacement to increase real estate offers. It is therefore logical to increase our coverage of this import benefit from a glass repair or glass replacement engagement for Miami homeowners."
To learn more about glass replacement issues, please visit http://www.expressglassfl.com/blog/category/glass-replacement/. There one can read several timely blog posts on the topic. Over August, there will be new posts on the topic as well.
Repair or Replace: Miami Real Estate Sellers Look to Maximize Home Sale Value.
As the Miami Real Estate market rises, sellers study how to increase the value of their properties in a cost-effective manner. Whether sellers are looking to flip a Florida property, or sell their own home, deciding how much money to invest before putting it on the market is difficult. Many homes need glass windows and doors fixed, yet home sellers do not know whether to pay for a repair or replacement. The key answer lies in how the glass windows and doors look to potential buyers.
Maximizing the curb appeal and initial walk-through of a Miami home is crucial to selling a property. Florida home buyers want to see their beach and pool views framed by beautiful sliding glass doors and windows. When the view is from an outdated metal frame with foggy glass, buyers may decide the house is not what they imagined. Express Glass reminds Miami home sellers to evaluate the importance of glass replacement or repair. The investment offers are large return when homebuyers make an offer at or above the listing price for their Florida dream home.
About Express Glass Repair and Board Up
Express Glass and Board Up Service Inc. is a family owned and operated glass repair business with more than 20 years of experience. Their professional technicians and the large variety of inventory make Express Glass the top glass repair service. If customers are looking for Miami glass repair or Miami glass repair as well as glass repair in Delray Beach or Miami glass repair, please reach out to the company for a free estimate. If customers need a 24/7 Sliding Glass Door repair service in Miami or Boca Raton or Miramar, technicians are standing by. The company specializes in sliding glass door repair and window glass repair; technicians will handle any glass replacement situation efficiently. Home or business glass repair is the company's main priority.
Express Glass Repair and Board up
http://www.expressglassfl.com/