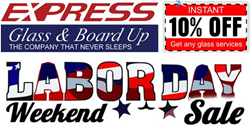 'We find many people searching for glass repair coupons and discounts in Miami, and then they realize that our services are not only reasonably priced but second-to-none in terms of customer quality throughout Miami-Dade county.'
Miami, FL (PRWEB) August 27, 2014
Express Glass and Board Up, one of Miami's best glass repair services, is proud to announce a 10% discount for customers needing glass repair or replacement services during the Labor Day week, beginning September 1, 2014. Many Miami customers search for Labor day discount coupons on glass repair and replacement, for both emergency and non-emergency residential repair issues. The company is a leader in residential repair services in Miami, Florida.
"Our Miami customer base is very cost-conscious," explained Yani Santos, general manager of Express Glass. "We find many people searching for glass repair coupons and discounts in Miami, and then they realize that our services are not only reasonably priced but second-to-none in terms of customer quality throughout Miami-Dade county."
To access the 10% discount coupon, please visit http://www.expressglassfl.com/coupon/. There, one can not only find out about glass repair and replacement coupon offers, but also browse the Express Glass & Board Up website to learn about home and residential repair options for Miami customers.
Labor Day Holiday and Coupon Offers: A Long History
Labor Day, of course, is celebrated in the United States as the first Monday in September, making it a three-day weekend and traditionally the 'end of summer.' Labor Day was created in 1894, when Grover Cleveland made Labor Day a federal holiday after a failed attempt to break up a railroad strike. Observed on the first Monday in September, Labor Day pays tribute to the contributions and achievements of American workers. Over time, as with many holidays, consumers have gone shopping on Labor Day and begun to look online for coupons, discounts, and special deals during the long Labor Day weekend. For persons with glass repair or replacement issues, Labor Day is a great time to get the house ready for Fall, and take care of any broken, damaged, or otherwise substandard glass. Express Glass gives cost estimates at no additional fee to consumers who call and the 10% discount can be had by just mentioning that glass discount offer on the initial phone call.
About Express Glass and Board Up
Express Glass and Board Up Service Inc. is a family owned and operated glass repair business with more than 20 years of experience. Their professional technicians and the large variety of inventory make Express Glass the top glass repair service. If customers are looking for Miami glass repair or Ft. Lauderdale glass repair as well as glass repair in Delray Beach or West Palm Beach glass repair, please reach out to the company for a free estimate. If customers need a 24/7 Sliding Glass Door repair service in Ft. Lauderdale or Boca Raton or Miramar, technicians are standing by. The company specializes in sliding glass door repair and window glass repair; technicians will handle any glass replacement situation efficiently. Home or business glass repair is the company's main priority.
Express Glass Repair and Board up
http://www.expressglassfl.com/