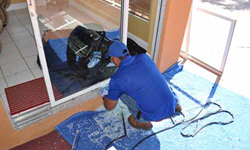 As Miami is starting to come down from the excitement and spending of the holiday season, we want to remind residents and business owners that getting back to key priorities is a good start to the New Year
Miami, Florida (PRWEB) January 18, 2016
Express Glass, one of Miami's top rated sliding door repair and glass replacement services, is proud to announce a lively new blog post about the importance of investing in safety and security in 2016. Broken sliding doors and cracked windows are a costly safety issue for families and businesses. An investment to fix broken patio doors and windows can be a wise choice.
"As Miami is starting to come down from the excitement and spending of the holiday season, we want to remind residents and business owners that getting back to key priorities is a good start to the New Year," commented Yaniet Santos, General Manager of Express Glass. "Sliding patio doors that are hard to open, or cracked window glass can be a safety issue for everyone. A smart investment in repairing broken glass and patios is a great way to raise the bar on security for the New Year."
To read the blog post go to: http://www.expressglassfl.com/blog/sliding-glass-door-repair/miami-sliding-glass-door-repair-is-a-must-for-2016/. Information about sliding door repair, window glass replacement and 24/7 emergency glass repair is also available. Coupons for 10% off a first visit are available for budget-wise property owners, as well, as part of a MLK holiday extension - making it more affordable than ever to upgrade security features.
Miami Locals and Smart Investments in Sliding Door Repair for 2016
January is a time for getting back to business and evaluating investments for the New Year. The priority for many Florida locals is to elevate home or business security for the next twelve months. A wise goal may be repairing a jammed sliding glass door or cracked window. A smart investment in sliding door repair can bring cost-savings throughout the year, even in the form of reduced burglary exposure.
A patio door that doesn't slide easily can be a hazard to family and compromise security. Cracked windows leave opportunities for burglars to quickly break into a home or business. Broken windows and sliding glass doors may be more expensive in the long run if left alone. Taking care of business means investing in smart choices with long-term benefits. Sliding glass door repair and window replacement can be the first step to wise investments in 2016 for Miami residents. Interested parties are encouraged to read the post for even more detailed information on this important issue.
About Express Glass Repair and Board Up
Express Glass and Board Up Service Inc. is a family owned and operated glass repair business with more than 20 years of experience. Professional technicians and the large variety of inventory make Express Glass the top sliding door repair and glass replacement service in Florida. If customers are looking for Miami sliding glass door repair or Ft. Lauderdale glass repair as well as glass repair in Delray Beach, please reach out to the company for a free estimate. If customers need a 24/7 Emergency Sliding Glass Door repair service in Fort Lauderdale or Boca Raton or Miramar, technicians are standing by. The company specializes in sliding glass door repair and window glass repair; technicians will handle any glass replacement situation efficiently. Home or business glass repair is the company's main priority.
Express Glass Repair and Board up
http://www.expressglassfl.com/