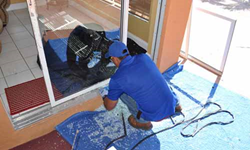 y achieving the fifteen review milestone with a cumulative score of 4.4 we are solidifying that lead in Miami as one of the best glass repair services in the city
Miami, Florida (PRWEB) August 31, 2016
August 31, 2016 - Miami, FL
Express Glass (http://www.expressglassfl.com), Miami's top-rated glass repair service for sliding glass door repairs or replacements, is proud to announce a new milestone on the Google review system of 4.4 stars, and fifteen consumer reviews. With consumers increasingly turning to reviews online, breaking the fifteen review barrier and having a cumulative score of 4.4 is, truly, an honor for the company.
"We are known in the Miami community as the go-to company for both sliding glass door repairs and replacements in greater Miami," Yaniet Santos, general manager at Express Glass. "By achieving the fifteen review milestone with a cumulative score of 4.4 we are solidifying that lead in Miami as one of the best glass repair services in the city."
To view the reviews on Google, visit http://www.expressglassfl.com/miami-glass-window-repair/. Next, scroll down and click on the Google+ icon. If a person has upgraded to the new Google+, they may not be able to see the reviews. In that case, visit https://goo.gl/ajuUvJ.
Miami Sliding Glass Doors: Repair or Replace?
Today's busy Miami consumers can be frustrated when they have sliding glass door issues. Perhaps the door is not sliding properly, or perhaps the air has become foggy between the panels, and it it difficult to see out. Or, perhaps the Miami resident has realized how expensive his or her air conditioning bill is, and realized that modern sliding glass doors can dramatically cut air conditioning by reducing heat into the home. Whatever the reason, this consumer can need to know whether to repair, or replace, his sliding glass door. Express Glass & Board Up has a policy of 'neutrality,' meaning that the company will give the consumer both the repair and replace option for his door. The consumer can then decide. The fifteen review milestone on Google contains many reviews that discuss sliding glass doors and glass repairs, indicating that consumers are responding favorably to a helpful Miami glass repair service that gives them their options.
About Express Glass Repair and Board Up
Express Glass and Board Up Service Inc. is a family owned and operated glass repair business with more than 20 years of experience. Their professional technicians and the large variety of inventory make Express Glass the top glass repair service. If customers are looking for Miami sliding glass door repair or Ft. Lauderdale glass repair as well as glass repair in West Palm Beach, please reach out to the company for a free estimate. If customers need a 24/7 Sliding Glass Door repair service in Miami or Boca Raton or Miramar, technicians are standing by. The company specializes in sliding glass door repair and window glass repair; technicians will handle any glass replacement situation efficiently. Home or business glass repair is the company's main priority.
Express Glass Repair and Board up
http://www.expressglassfl.com/