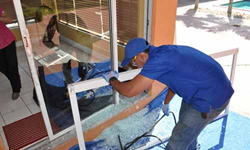 Sometimes our customers think that repairing a glass door is the best answer to their problem
Miami, Florida (PRWEB) May 18, 2016
Express Glass, a top glass repair and replacement service in Miami, Florida, is proud to release an update to its informational page on replacement issues in terms of glass doors. Just in time for the Summer home improvement rush, the newly updated page offers timely information and five key reasons sliding glass door replacement may be better than repair.
"Sometimes our customers think that repairing a glass door is the best answer to their problem," explained Yaniet Santos, general manager of Express Glass. "We find that they can have 'information overload.' Accordingly, we distilled our updated page down to five key reasons why replacement can be better than repairs for sliding glass doors."
To review the updated Miami webpage about the top five reasons sliding glass door replacement may be a better choice, go to http://www.expressglassfl.com/sliding-glass-door-parts-replacement/. Details about 24 hour emergency sliding glass door replacement and repair are also available, by clicking up to the tabs across the top.
Miami Sliding Glass Door Replacement: Five Key Reasons to Choose the Long Term vs. a Quick Fix
The decision to repair or replace a sliding glass door may be a difficult choice for Miami residents. Florida locals want to upgrade the home, but a tight budget can sway a decision. The idea of a "quick fix" repair to a patio door can have a budget-friendly appeal. It's important to note that repairing outdated patio doors doesn't fix costly long-term problems. Over time, homeowners can pay more in monthly energy bills. Valuable curb appeal can be lost as well. For smarter overall cost-savings, the long term view may be sliding glass door replacement.
Express Glass, Miami's experts in sliding glass door replacement has updated the company page with valuable new information about five key reasons why replacement may be a better choice than repair. Older homes with outdated patios doors and windows can cost the homeowner more in the long run. Upgrading a patio door may help lower air conditioning bills during hot Miami summers and bring valuable curb appeal to the home. Long term home values and lower energy bills are smart reasons to choose Miami sliding glass door replacement.
About Express Glass Repair and Board Up
Express Glass and Board Up Service Inc. is a family owned and operated glass repair business with more than 20 years of experience. Professional technicians and the large variety of inventory make Express Glass the top glass door replacement and repair service. If customers are looking for Miami sliding glass door repair, or Ft. Lauderdale glass repair as well as glass repair in Delray Beach please reach out to the company for a free estimate. If customers need a 24/7 Miami Sliding Glass Door replacement service, or glass repair in Ft. Lauderdale or Boca Raton, technicians are standing by. The company specializes in sliding glass door repair and window glass repair; technicians will handle any glass replacement situation efficiently. Home or business glass repair is the company's main priority.
Express Glass Repair and Board up
http://www.expressglassfl.com/