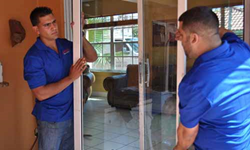 We love Miami residents and enjoy helping them with any of their window and door glass repair needs
Miami, FL (PRWEB) April 19, 2016
April 19, 2016 -Miami, Florida
Express Glass and Board Up, Miami's leading glass repair service at http://www.expressglassfl.com/, has issued a clarification to local customers. With Spring travels causing numerous windshield damages due to loose gravel, the company gets bombarded with confused consumers seeking auto repairs. The company focuses solely on glass replacement and repair services for non-auto needs.
"We love Miami residents and enjoy helping them with any of their window and door glass repair needs," explained Yaniet Santos, general manager of Express Glass. "However, when locals call and ask us to repair car glass, we can't do it. Unfortunately, sometimes they call us out on a service call without indicating its an auto glass that needs the repair. If it's a home or business, then we are ready to help 24-7!"
For more details about Miami sliding door replacement and other glass repair services in Florida go to: http://www.expressglassfl.com/miami-glass-window-repair/. The company services home and business glass repair needs for doors and windows. Auto glass is not included, and of course the new 10% discount for April, does not apply to automobile glass needs.
Making it Clear in Miami: "Yes" to Glass Door Replacement and Windows, "No" to Auto Glass
Miami residents have a large list of local services to call when a glass repair emergency occurs. Although customers may prefer to contact one great business for all glass repair needs, not all glass emergencies are the same. Sliding door replacement in a home is not the same as fixing a car window. Each require specific skills and equipment to repair the glass properly. The best solution for a quick glass repair is understanding the difference between sliding door replacements vs. auto glass.
Miami residents pleased with prior service have called Express Glass to request auto glass repair only to hear it is not available. To help clear up the confusion, Express Glass has issued a clarification about the glass repair services the company offers. Home sliding door replacement, windows and storefront glass are the company's specialty. Auto glass service is not part of the Express Glass "wheelhouse." Locals searching for the best in Miami sliding door replacement may call Express Glass 24/7 as long as the door is attached to a property, not a car.
About Express Glass and Board Up
Express Glass and Board Up Service Inc. is a family owned and operated glass repair business with more than 20 years of experience. Professional technicians and a large variety of inventory make Express Glass the top glass repair service. If customers are looking for sliding door replacement in Miami homes or West Palm Beach, please reach out to the company for a free estimate. If customers need sliding door replacement for businesses in Miami, Fort Lauderdale or Miramar emergency glass repair, technicians are standing by. The company specializes in sliding glass door repair and window glass repair; technicians will handle any glass replacement situation efficiently. Home or business glass repair is the company's main priority.
Express Glass Repair and Board Up
http://www.expressglassfl.com/