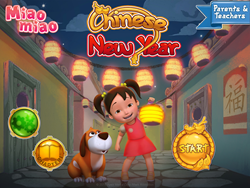 Now kids of all backgrounds can share in the fun of dumplings, dragon dances, and fireworks at this special time of year.
(PRWEB) January 23, 2015
As millions of families start to think about Chinese New Year celebrations, which commence this year on February 19, 2015, Toronto-based digital media company Mark Animation is pleased to announce the release of Miaomiao's Chinese New Year, a new preschool interactive story app for iOS that is now available in the iTunes app store.
This adorable, narrated story takes children on an interactive Chinese New Year adventure with Miaomiao and her sidekick puppy Doudou. Can they find the stolen dumplings and save the Chinese New Year festival?
Throughout the story, children must help Miaomiao and Doudou by completing fun and intuitive mini games that advance the story. With explanations of cultural traditions and 20 easy-to-learn Mandarin vocabulary words, every page is full of Chinese New Year-themed words and fun interactions waiting to be discovered.
"Chinese New Year is a very important holiday in our family and we wanted to share its traditions with everyone," said Faye Li, the Creative Director of Miaomiao. "Now kids of all backgrounds can share in the fun of dumplings, dragon dances, and fireworks at this special time of year."
App Features:

70+ interactions to explore including fun animations, sounds, vocabulary and a few surprises!
Fully narrated story with read along text
5 great mini-games that help advance the story: Making Dumplings, Connect the Stars, Build a Bridge, Dragon Dance and a Matching Card Game.
20+ early learning Mandarin vocabulary words shared throughout the book
Beautiful original artwork and soundtrack
Parents & teachers section offering more ways to talk about the educational themes of the story
Simple UI that young kids can navigate
No in-app purchases or third-party advertising
APP SUMMARY:
Name: Miaomiao's Chinese New Year
Available now (click here)
Devices: iPad, iPad Mini, iPhone 4, 5, 6, 6+
Price: $2.99US/ $3.49 CDN
Age: 2-5
Category: Kids
PARENT-TEACHER EDUCATIONAL WEBSITE
Along with Miaomiao's Chinese New Year app, Mark Animation has launched an early education resource website for parents and teachers that helps teach kids about Chinese culture and vocabulary through fun activities and lesson ideas.
education.learnwithmiaomiao.com
The website features:
– 30+ Special Chinese New Year activities and ideas for kids
– Mandarin vocabulary & Chinese character practice sheets
– Lesson plan ideas for teachers
– Fun cultural crafts
– Activities, songs & games
– Easy but delicious Chinese recipes
– Weekly updates and regular seasonal content
All of this content is free and no registration is required to access it.
Inquiries
For questions and interview requests please contact Lina Skorbach at lina(at)markanimation(dot)com
###
About Mark Animation
Mark Animation is an exciting new film, television and interactive digital media company based in Toronto that combines culture and modern technology to create properties that entertain, inspire and educate across media platforms.
Re-imagining digital storytelling and education. Learn more at markanimation.com
About Miaomiao
Miaomiao is an exciting new preschool digital media series that introduces young children to the amazing world of early language learning through fun games and adventures that also teach preschoolers simple Mandarin Chinese. Visit us at learnwithmiaomiao.com or follow us on Facebook, Twitter or Instagram @miaomiaolearn.