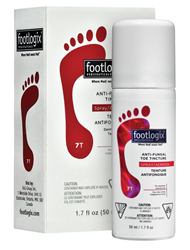 Showing customers how to get the best results.
Delray Beach, FL (PRWEB) June 26, 2014
MiBellaReina.com, in development for the last year, has opened online with tremendous accolades. The ease of the online shopping experience may be outweighed by the ongoing beauty advice from the beauty experts at Bella Reina. The website takes a different approach to products as it gives beauty advice on how to apply or use each product so that customers get great results.
One such product that needed explanation is the Footlogix® 7T Anti-Fungal Tincture. Explains Nancy Reagan, president of Bella Reina, "Having a toe fungus can be a real issue for many people. Showing customers how to use the product and how to get the best results is how we teach our clients both in the spa and online."
Getting rid of toe nail fungus is one of Bella Reina Spa's specialty spa services with a pedicure designed especially for the ill-fated fungus. Having this experience has allowed the spa to transition this specialty knowledge to the website where thousands of clients can be helped.
The new website brings together health, beauty, fitness and fragrance products with even more information and advice from videos, how-to's and the online blog. For more information on getting rid of nail fungus or MiBellaReina.com, please email info(at)MiBellaReina(dot)com.
About Bella Reina: Bella Reina is the leading spa provider and definitive authority on luxury beauty, wellness, and spa treatments. Bella Reina was created by Nancy Reagan, a nationally recognized expert in beauty, nutrition, weight loss, skin care, and makeup. Nancy and Bella Reina Spa have been featured in the New York Times, WebMD, Les Nouvelles Esthetique & Spa, and PC Advisor for spa industry expertise and business success. To learn more about how Bella Reina is constantly innovating both spa services, spa memberships and shopping for beauty, please visit BellaReinaSpa.com or MiBellaReina.com.