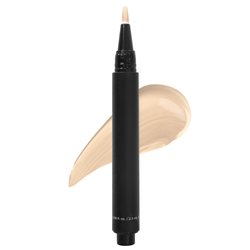 Tips and Results of using the Concealer Foundation Pen from MiBellaReina.com.
Delray Beach, FL (PRWEB) April 29, 2014
MiBellaReina.com is excited to launch the Nancy Reagan Concealer Foundation Pen, which is one of the first product launched in their treatment makeup line. Treatment makeup or treatment cosmetics is a new concept to the beauty industry as the products provide skin treatments while performing "makeup" duties.
The treatment makeup products also focus on providing beauty naturally and are easy, quick and fast for clients. After years of helping clients with makeup and skin care, Nancy Reagan is developing products that will provide fast results and be easy to use.
The Nancy Reagan Concealer Foundation Pen was developed after watching women struggle to apply concealer. "The clients either applied the concealer too thick or too light, and some would even use their fingers. Our pen has it all in one. It is a treatment concealer with arnica, aloe, Vitamins C & E, plus the brush is there for easy application," said Mary Benbenisty, esthetician and makeup artist at Bella Reina Spa. Click Here to view more information on the ConcealerFoundation Pen from MiBellaReina.com.
MiBellaReina.com has treatment makeup, treatment cosmetics and therapeutic essential oil blends to offer fans of beauty products that work. The secure website features an impressive lineup of products that are easy to use and have 2 in 1 product benefits. Customers will want to take advantage of the great selection and equally great prices, plus the grand opening special offer of a free foundation brush with any order.
Customer Support: customerservice(at)mibellareina(dot)com
About Bella Reina: Bella Reina is the leading provider and definitive authority on beauty, wellness and spa treatments. The spa is dedicated to providing outstanding services and anti-aging treatments, like the non-surgical facelift or the slimming infrared body wrap, to guests with busy lifestyles. Bella Reina was created by Nancy Reagan, a nationally recognized expert in beauty, nutrition, weight loss, skin care and makeup. Nancy and Bella Reina Spa have been featured in the New York Times, WebMD, Les Nouvelles Esthetique & Spa, and PC Advisor for spa industry expertise and business success. To learn more about how Bella Reina is constantly innovating both spa services and shopping for beauty, please visit BellaReinaSpa.com or MiBellaReina.com.