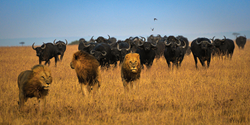 New York, NY (PRWEB) April 14, 2014
Guests who travel with luxury safari operator Micato Safaris invariably return home from their adventures with breathtaking photos of sweeping landscapes and exotic wildlife. To help their guests celebrate and share these images, Micato began an annual photo contest four years ago that has since become a highlight for both new and returning travelers.
This year's gold winner, Bill Falik of Berkeley, California, traveled to East Africa in July, where he captured a stunning image of lions and Cape buffalo thundering across the savannah.
13-year-old Dillon Campbell of Del Mar, California, whose photo of a leopard won the overall silver prize, traveled with his parents on the Heart of Kenya and Tanzania Wing Safari in August, 20 years after his grandparents visited East Africa with Micato.
Dillon's visit to the Micato-AmericaShare Harambee Community Centre—an oasis of hope in Nairobi's Mukuru slum—inspired him to donate his $1,000 winnings with the hope that another Kenyan child could attend school.
Bronze was awarded to a portrait of a sleeping hippo taken by Bob and Elaine Blackburn, from Carlsbad, California. In addition to their safari in Kenya and Tanzania, they had previously tracked mountain gorillas with Micato through the Rwanda rainforest.
Monthly winners have included an arresting close-up of a cheetah, two topi—blue-flanked antelope—nursing their young, and elephants set against the majestic backdrop of Mount Kilimanjaro. To browse the featured photos, visit http://www.micato.com/photo-contest/.
About Micato Safaris
Micato Safaris, has set the industry standard for luxury, service, and passionate commitment to providing unequaled safari experiences in East and Southern Africa for nearly five decades. A family-owned, family-operated company, Micato is truly at home in Africa. The only company honored nine times with Travel + Leisure magazine's prestigious #1 World's Best Safari Outfitter Award, Micato is also the only five-time winner of the Condé Nast Traveler World Savers Award, most recently in 2013 for Education. For more than a quarter century, Micato's nonprofit arm, Micato-AmericaShare, has cared for and educated thousands of needy children based from its Harambee Centre in Nairobi's Mukuru slum. The company's heralded One for One Commitment sends a child to school for every safari sold. For more information or to book a safari, visit http://www.micato.com or call 1-800-MICATO-1 (1-800-642-2861).