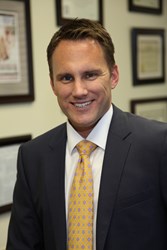 This recognition will help me help others who have been recently arrested for DUI and need answers to their questions.
Doylestown, Pennsylvania (PRWEB) January 24, 2014
Pennsylvania attorney, Michael L. Saile, Jr., of Saile & Saile LLP based in Langhorne, PA has clinched a 40 Under 40 spot from the American Society of Legal Advocates' (ASLA) search for Pennsylvania's most skilled criminal defense lawyers. Mr. Saile practices DUI defense in Bucks County, Pennsylvania. His by-invitation-only selection recognizes his "stellar legal credentials, with proven commitment to community engagement, leadership, and the highest professional standards," in the criminal defense practice area.
The selection process engages independent research conducted by ASLA lawyers in a multi-stage process who ultimately select the Top 40 (under age 40) category. ASLA reports that less that 1.5% of lawyers nationally are selected for this honor.
As an attorney under the age of 40, Mr. Saile exemplifies the superior qualifications required for the nod, including his track record of positive results and his proven community leadership. Saile also holds a position on the Board of Directors at TODAY, Inc., a community drug and alcohol rehabilitation program designed to be an alternative to incarceration.
Michael L. Saile, Jr., Esq. writes, "It is an honor to receive recognition from the American Society of Legal Advocates. It is my goal to provide sound yet helpful and comforting legal guidance during what is often a stressful time for most people."
Licensed for over 10 years, Mr. Saile focuses his practice at Saile & Saile LLP on personal injury law and DUI defense in Pennsylvania and New Jersey and has been named multiple times to the list known as "Rising Stars" by SuperLawyers.com. He has been also been named multiple times to the Top 40 Under 40 List by the National Trial Lawyers Association. His "Superb 10.0/10.0" rating on Avvo.com, a professional ratings website, from both clients and peers speaks to his superior qualifications. He has been named Happening List's Bucks County's Most Happening Lawyer, and recognized as one of Forty Under 40 business and community leaders by the Bucks County Courier Times in 2013.