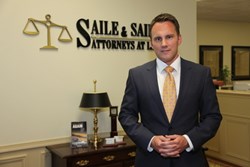 "I truly appreciate the recognition as an AV Preeminent attorney from the Martindale-Hubbell®. It is my goal to provide sound legal guidance during what can be a confusing and stressful time for most people.
Langhorne, PA (PRWEB) August 28, 2013
Pennsylvania attorney, Michael L. Saile, Jr., of Saile & Saile LLP has clinched the AV® Preeminent™ attorney rating from internationally recognized peer ratings reviewer, Martindale-Hubbell® for his work in personal injury and DUI practice areas.
Mr. Saile exemplifies the superior qualifications required for the nod, including his high ethical standards and professional ability. Scoring 4.9 out of 5 in compiled evaluations of lawyers, other members of the bar, and the judiciary, Martindale-Hubbell® notes Mr. Saile's rating as significant. The distinction is a testament by which his peers rank him at the highest level of professional excellence in five key areas: legal knowledge, analytical capabilities, judgment, communication ability, and legal experience.
Martindale-Hubbell® ratings include the reviews by both peers and clients which, when combined, help buyers and referrers of legal services to choose the right lawyer or law firm for their legal matter. The AV® Preeminent™ attorney rating places Mr. Saile among an exclusive group of legal professionals in personal injury and DUI law who are recognized by their peers.
Licensed for over 10 years, Mr. Saile focuses his practice at Saile & Saile LLP on personal injury law and DUI defense in Pennsylvania and New Jersey. He has been named multiple times to the Top 40 Under 40 List by the National Trial Lawyers Association and has been named multiple times to the Rising Star-Super Lawyer® List by Thompson-Reuters. His "Superb" 10.0/10.0 rating on Avvo.com, a professional ratings website, from both clients and peers also speaks to Mr. Saile's superior qualifications.
The injury lawyers at Saile & Saile LLP help victims of auto, truck, motorcycle, bicycle and pedestrian accidents to recover compensation against insurance companies. Saile & Saile LLP offers a complimentary guide book to anyone who has been injured in an accident in Pennsylvania or New Jersey by downloading "Don't Crash Again". Those arrested for DUI can obtain a complimentary Bucks County DUI Guide. Saile & Saile LLP has also published informative videos on its Pennsylvania personal injury website.
The NJ & PA law firm of Saile & Saile LLP is located in lower Bucks County, Pennsylvania, just north of Philadelphia and minutes west of Trenton, New Jersey. The firm represents injured victims of accidents throughout the states of New Jersey and Pennsylvania, and those arrested for DUI and can be reached toll free at 800-860-5801.