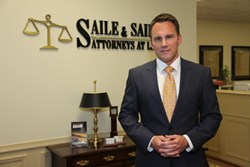 This great recognition will expose me to others that may need my assistance. Being able to help others in their times of need is personally fulfilling.
Langhorne, PA (PRWEB) October 24, 2013
Pennsylvania attorney, Michael L. Saile, Jr., of Saile & Saile LLP has clinched a Forty Under 40 spot from the Bucks County Courier Times' and The Intelligencer's search for the area's young business and community leaders for his work as a local attorney who gives back to the community.
As an attorney under the age of 40, Mr. Saile exemplifies the superior qualifications required for the nod, including his track record, professional accomplishments, and his proven community leadership. Saile, an Eagle Scout, also holds a position on the Board of Directors at TODAY, Inc., a community drug and alcohol rehabilitation program designed to be an alternative to incarceration.
This summer, the Bucks County Courier Times and The Intelligencer requested nominations for young Bucks County professionals who are active in the community. The perfect candidate, according to the newspaper's marketing director, Carol Shapcott, is "Somebody that's a good blend of professional achievement, as well as showing dedication to the community." Winners were chosen by a panel of independent judges from outside Bucks County.
Michael L. Saile, Jr., Esq. writes, "It is an honor to receive recognition from the local community. It is my goal to provide sound legal guidance during what is often a confusing and stressful time for most people. I meet people who have experienced trauma, and I understand the legal ramifications faced by Pennsylvania accident injury victims, and those arrested for DUI."
Licensed for over 10 years, Mr. Saile focuses his practice at Saile & Saile LLP on personal injury law and DUI defense in Pennsylvania and New Jersey and has been named multiple times to the "Rising Stars- Super Lawyers" list by Thompson-Reuters. He holds an "AV" rating by Martindale Hubbell, which is the highest rating that an attorney can receive by his peers and the judiciary for competence and ethics. His "Superb: 10/10" rating on Avvo.com, another professional ratings website, from both clients and peers speaks to his superior qualifications, and he has been named Happening List's Bucks County's Most Happening Lawyer for 2012. The National Trial Lawyers Association has also named Saile to their Top 40 Under 40 List multiple times.
The injury lawyers at Saile & Saile LLP help victims of auto, truck, motorcycle, bicycle and pedestrian accidents to recover compensation against insurance companies. Michael Saile offers his accident books to anyone who has been injured in an accident in Pennsylvania or New Jersey. Those arrested for DUI can obtain Mike's Bucks County DUI Guide. Saile & Saile LLP has also published informative videos on its injury website (http://www.pa-nj-injurylawyer.com).
The NJ & PA injury law firm of Saile & Saile LLP is located in lower Bucks County, Pennsylvania, just north of Philadelphia and minutes west of Trenton, New Jersey. We represent injured victims of accidents throughout the states of New Jersey and Pennsylvania, and those arrested for DUI. We can be reached toll free at 800-860-5801.