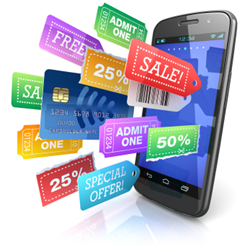 Michael Zimmerman's hedge fund believes that despite fewer shoppers instore, sales are increasingly driven by sofa shoppers wielding tablet computers
New York, NY (PRWEB) January 24, 2014
Michael Zimmerman of hedge fund Prentice Capital Management LP believes mobile shopping will change the way we shop, an evolution that is already happening. Online sales on Christmas Day were up 16.5 percent over last year while mobile sales formed nearly 29 percent of total online sales, an increase of over 40 percent compared to 2012, even though the number of people walking into stores fell 14.6 percent this year.
Prentice Capital's Zimmerman believes that despite fewer shoppers instore, sales are increasingly driven by sofa shoppers wielding tablet computers. Considering that an estimated 50 million new iPhones and iPads are already in consumers hands during the last quarter of 2013, the new year could be a breakthrough year for mobile shoppers, particularly if businesses continue to adapt to mcommerce, engaging their client base with new and innovative methods.
Apple's iPhone and iPad represented the vast majority of U.S. online shopping and sales during Christmas, accounting for more than an 83 percent take of sales compared to Android. Despite having minority market share in the U.S., Apple's iOS is being used to do the most mobile shopping and placing the most sales by a wide margin, according to IBM's Digital Analytics Benchmark Hub (1).
The group notes that smartphones drove 28.5 percent of all online traffic, leading the 18.1 percent traffic share tied to tablet devices, however tablets composed 19.5 percent of all online sales, significantly larger than the 9.3 percent share of sales connected to smartphones.Tablet users also placed higher value orders: $95.61 per order on average compared to the $85.11 average order placed on smartphones.
"It's a result of more and more technology in the hands of the consumer, which allows them to virtually window-shop," ShopperTrak founder Bill Martin told Reuters (2). Approximately 33% of Smartphone users look for product reviews, coupons and reductions prior to purchasing anything, frequently while in-store - a consumer trend being labelled "click and mortar" shopping, fueled by Social networking. Intelligent utilization of the latest social media and Smartphone data allows forward thinking companies to analyze customer behavior and quickly address needs and concerns, a field being pioneered by Apples iBeacon instore engagement technology.
US consumer retail growth will probably continue to do well in 2014 likely driven by the rapid growth of mcommerce. And Zimmerman is backing his opinions: his pattern of investing as indicated through Prentice Capital's regulatory disclosures shows the Zimmerman hedge fund favors stocks with powerful brands and well-conceived mobile and online commerce strategies (3).
Scott Galloway, an NYU Stern professor of marketing and creator of L2, stated "Given the evidence, we seem to be entering the start of a persistent mobile age... Brands ignore this shift at their own peril." (4).
Michael Zimmerman's Prentice Capital is a financial investment advisory firm headquartered in Greenwich, founded in 2005 by Zimmerman.
Michael Zimmerman also sits as Chairman of the Board of directors at retailer dELiA*s Inc, and has specialized in public and private investments in the U.S. consumer retail sectors.
Citations:
[1] "US Online Retail Holiday Shopping Recap Report 2013" - IBM, January 10 2014
[2] "Deep discounts fail to woo U.S. holiday shoppers" - Reuters, 8 Jan. 2014
[3] SEC EDGAR Filings, 15 Jan. 2014
[4] "High-End Brands Are Missing the Boat on Mobile, Study Finds" - Mashable, 11 Jan. 2012