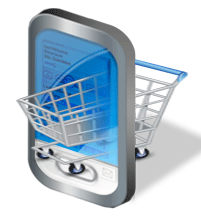 Zimmerman believes traditional stores can take on e-commerce giants like Amazon and keep their role by reinventing themselves faster to more smoothly blend instore shopping with innovative on-line presences.
New York (PRWEB) March 24, 2014
Michael Zimmerman of hedge fund Prentice Capital believes Consumer shopping patterns have never changed so fast. The latest report by Mob Partner points to a significant shift occurring in the way that consumers shop and the devices they shop with (1).
Zimmerman believes traditional stores can take on e-commerce giants like Amazon and keep their role by reinventing themselves faster to more smoothly blend instore shopping with innovative on-line presences. This hybrid online shopping model, combining physical shops to offer customers the benefits of fast online transactions and traditional face-to-face service, is referred to as "click and mortar" retailing. "I am totally convinced that click and mortar is the future," said Georges Plassat, the head of world number two retailer Carrefour (2)
Mark Lewis, head of John Lewis Online states "Customers want to combine pure online with visiting stores. Stores have a big role to play." Lewis stated that more than two-thirds of sales involved stores and online, such as collecting Internet orders in-store, researching online or scanning items with smart phones to read reviews (3).
Its easy to imagine that Amazon leads the way in online shopping, but readers might be surprised to discover that Amazon reported total online sales volume larger than their next 12 competitors – combined! This is even more astonishing considering that Amazon's competitors include big brands like Walmart and Staples. (4)
Despite the challenge from Amazon, two thirds of retailers say stores remain the most important channel for shoppers and one in three plan to expand their store footprint, according to a survey by the Australian Centre of Retail Studies released at a convention in Paris (5).
JacquesAntoine Granjon, Head of French e-commerce business Vente-privee.com, states that once pure on-line players are needing to learn from conventional retailers. "It is the end of pure players, they are finished," he said. "The future is multi-channel and cross-channel. E-commerce is just a new distribution channel."
Zimmerman believes that despite fewer shoppers in store, sales are increasingly driven by sofa shoppers wielding tablet computers. Despite having minority market share in the U.S., Apple's iOS is being used to do the most mobile shopping and placing the most sales by a wide margin, according to IBM's Digital Analytics Benchmark Hub (6).
Apple's iPhone and iPad represented the vast majority of U.S. online shopping and sales during Christmas, accounting for more than an 83 percent take of sales compared to Android. Considering that an estimated 64 million new iPhones and iPads are already in consumers hands during the last quarter of 2013, the year ahead could be a breakthrough year for mobile shoppers. (6)
Retail sales increased 0.3% MoM in February, the first rise since November, at both the headline and ex-auto levels. The increase was led by a large jump in nonstore retailers, which saw an impressive 1.3% MoM increase and 6.8 percent compared with the same period last year (7).
"[the] positive retail sales report indicates that the economy is primed for growth," NRF President and CEO Matthew Shay said. (7)
Consumer retail growth will probably continue to do well in 2014 likely driven by the rapid growth of mcommerce. And Zimmerman is backing his opinions: his pattern of investing as indicated through Prentice Capital's regulatory disclosures shows the Zimmerman hedge fund favors stocks with powerful brands and well-conceived mobile and online commerce strategies (8).
"Given the evidence, we seem to be entering the start of a persistent mobile age," Scott Galloway, a professor of marketing at NYU Stern and creator of L2, commented in a statement. "Brands ignore this shift at their own peril." (8)
Michael Zimmerman's Prentice Capital is a financial investment advisory firm headquartered in Greenwich, founded in 2005 by Zimmerman.
Michael Zimmerman also sits as Chairman of the Board of directors at retailer dELiA*s Inc, and has specialized in public and private investments in the U.S. consumer retail sectors.
Citations
(1) Mcommerce Study - December 2013, MobPartner
(2) Georges Plassat: "Clicks and mortar are the future" - 09 October 2013, RetailDetail
(3) "Retailers see "click and mortar" as way to beat Amazon" Oct 8, 2013 Reuters
(4) "Fascinating Number: Amazon Is Larger Than The Next Dozen Internet Retailers Combined" September 1, 2013, Forbeshttp://www.forbes.com/sites/timworstall/2013/09/01/fascinating-number-amazon-is-larger-than-the-next-dozen-internet-retailers-combined/
(5) "Despite online, mobile top retailers plan more stores" - October 09, 2013, BizReport
(6) "US Online Retail Holiday Shopping Recap Report 2013" - IBM, January 10 2014
(7) "Retail Sales Rebound In February" - March 13, 2014 NRF
(8) SEC EDGAR Filings, 15 Jan. 2014
(9) "High-End Brands Are Missing the Boat on Mobile, Study Finds" - Mashable, 11 Jan. 2012