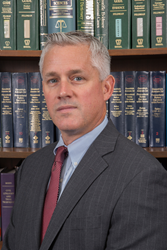 Pennsylvania, New Jersey, New York (PRWEB) October 20, 2015
Michael joins The Rothenberg Law Firm LLP with close to 18 years of legal experience, having spent his career litigating personal injury cases. Prior to joining The Rothenberg Law Firm, Michael's experience was primarily defending the interests of insurance companies. As a new member of The Rothenberg Law Firm's legal team, Michael will be devoting the next phase of his legal career to assisting injured clients in the area of personal injury law, with an emphasis on auto accidents, premises liability, construction-related accidents and injuries from defective products.
In addition to his experience as a civil trial attorney, Michael served as Assistant City Solicitor for the City of Philadelphia. Michael also devoted part of his time to delivering lectures on the topics of risk management and litigation practices. Michael earned his J.D. from Widener Law School, in 1997 and his B.A. from St. Joseph's University in 1994. He is licensed to practice law in the Commonwealth of Pennsylvania, State of New Jersey, Eastern District of Pennsylvania and the District of New Jersey.
Michael joins the firm with great enthusiasm and looks forward to working together with the experienced team of attorneys at The Rothenberg Law Firm who have been handling catastrophic personal injury cases for over four decades, recovering hundreds of millions of dollars on behalf of thousands of clients. The firm has offices across the Tri-State area in New York, NY, Philadelphia, PA, Cherry Hill, NJ, Hackensack, NJ, and Lakewood, NJ.
For further information, or to speak with Mr. Dorsey, please contact him at Michael(at)injurylawyer(dot)com or 1-800-624-8888.