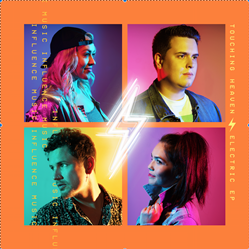 "My family is loving this EP! Sarmo did an amazing job remixing the tracks off 'Touching Heaven'. Sometimes "worship" looks like being still but sometimes you just gotta get a little wild and dance! " - Michael Ketterer of Influence Music
ANAHEIM HILLS, Calif. (PRWEB) February 20, 2019
After his crooning ballads, and stories of adoption moved millions to tears on America's Got Talent, it might be hard to imagine Michael Ketterer's signature vocal style pairing with a club worthy EDM banger, yet he delivers all this and more with his new track "Kingdom - Sarmo Remix", a standout from Influence Music's new "Touching Heaven - Electric" EP.
The EP closes out a whirlwind breakout year for Influence Music which saw: Their debut album "Touching Heaven" hit Billboard #2 in it's genre, their debut radio single Mistakes rising on Billboard Airplay charts, and a sleeper hit from Ketterer find it's way into the Billboard Top 50 streaming songs of it's genre.
With "Touching Heaven - Electric" Influence Music shows impressive stylistic breadth by enlisting up and coming EDM DJ Sarmo (previous of Armin Van Burren's label "Armada") who's remix production turns the epic rock anthems from their debut record into future dance floor favorites. It's surprising at face value but after digging into the writing credits and finding the notable LA's pop writers Georgia Ku (Skrillex, Martin Garrix, Iggy Izelia), Lauren Evens (Armen Van Buren), and Melody Noel (Jennifer Lopez, Prince Fox, Macy Gray) it starts to make sense why you can't not move your feet to this EP. The other standout from the EP is the new single/title track ELECTRIC, an up tempo banger of a love song, featuring Whitney Medina.
"Touching Heaven - Electric" is available now on all digital platforms
http://smarturl.it/TH_electric_EP