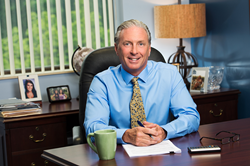 I am honored and proud to achieve this award for the fifth time. I want to say thank you to all my clients.
Bloomfield, CT (PRWEB) March 14, 2017
Michael D. Diot, Guaranty Federal Financial Corporation is featured in a special section of the March issue of Connecticut Magazine as a 2017 Five Star Mortgage Professional award winner.
"I am honored and proud to achieve this award for the fifth time. I want to say thank you to all my clients. The fact that Connecticut Magazine included me in this selection of elite mortgage professionals confirms all my hard work and desire to provide outstanding service to my customers and business partners," Michael Diot of Guaranty Federal Financial Corporation.
Five Star Professional partnered with Connecticut Magazine to identify and showcase an exclusive group of mortgage professionals who have demonstrated excellence in their field. Less than 4% in the Connecticut-area received this recognition.
"My business is 100% referral. I appreciate every opportunity to help someone. I am passionate about working with clients and business partners and helping them through the home financing process. As an experienced mortgage professional with over 30 years' experience, I understand that every client is unique," said Michael Diot.
The 2017 Five Star Mortgage Professional award winners have been carefully selected for their commitment to professional excellence and overall client satisfaction. The award is based on rigorous research with significant focus on customer feedback and providing quality services.
"I got into this business because I truly love working with people. The mortgage industry provides me the opportunity to utilize my love of finance with the real estate industry and consumers. I knew the minute I provided my first mortgage, this is what is wanted to do," said Michael Diot.
"Five Star Mortgage Professionals provide world-class service which is evident through their clients' loyalty. With a strong foundation of knowledge and experience, they work to understand their clients' needs and provide a financing solution that fits," Dan Zdon, CEO, Five Star Professional.
Now entering its 15th year, Five Star Professional conducts in-depth, market-specific research in more than 45 markets across the United States and Canada to identify premium service professionals.
Five Star Professional contacts thousands of recent homebuyers, along with real estate agents, to identify award candidates and measure their client satisfaction levels. Phone, mail and online respondents rate their mortgage professional on criteria such as overall satisfaction and referability. Qualifying candidates are then evaluated on objective criteria such as experience, production levels and disciplinary and complaint history.
Professionals do not pay a fee to be considered or awarded. For more information, visit http://www.fivestarprofessional.com.
Guaranty Federal is a Connecticut based Correspondent Lender located in Bloomfield, CT. serving Connecticut and Florida (860) 216-3557 ext. 6.
Contact:
Michael D. Diot
Vice President
Guaranty Federal Financial Corp
34 Jerome Avenue Suite 310
Bloomfield, CT
(860) 216-3557 ext 6 Office
Guaranty-Federal.com
NMLS Originator I.D. 24454
NMLS State I.D. 2624