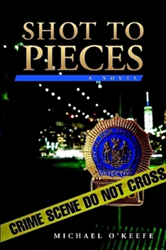 FARMINGDALE, N.Y. (PRWEB) August 16, 2016
"Shot to Pieces: A Novel" (published by Lulu) is a police psychodrama unfolding over 30 years. It is the story of a psychologically scarred and emotionally crippled detective trying desperately to salvage his career, his family and himself.
Author Michael O'Keefe reveals the duality that exists in his characters as the narrative unfolds through a carefully crafted police investigation: "Everyone is at least a little flawed," says O'Keefe. "Most of them know it and are trying to overcome their weaknesses. The ones that aren't are depraved."
In addition to the drama, O'Keefe hopes the book will help to combat the growing "anti-police sentiment" in today's society. Readers are exposed to honest police officers' dedication and their passion for serving the people they have sworn to protect.
"'Shot to Pieces' provides the reader with an informative, close up and emotional view of the lives, emotions and thoughts of real police officers during and after the harrowing violence that cops have to endure on a daily basis," he says. "I believe (the novel) will afford them the opportunity to appreciate and respect them."
"Shot to Pieces"
By Michael O'Keefe
Hardcover | 6 x 9 in | 412 pages | ISBN 9781483453262
Softcover | 6 x 9 in | 412 pages | ISBN 9781483453279
E-Book | 412 pages | ISBN 9781483453255
Available at Amazon and Barnes & Noble
About the Author
Michael O'Keefe is a retired first-grade detective from the New York City Police Department. He spent 24 years investigating homicides and other violent crime in New York. He lives on Long Island with his family where he writes and coaches football. More information is available at http://www.shottopiecesthenovel.com/.
Lulu empowers people of all ages to explore and express their interests, passions and expertise through books, photography and art. Since introducing self-publishing in 2002, Lulu has empowered creators in more than 225 countries and territories to produce nearly two million publications. Lulu Jr. allows children to become published authors, encouraging creativity, strengthening literacy and building self-esteem. Picture.com offers professional photography of collegiate and professional sports, memorable and historic events, fine art and home décor. For more information, please visit lulu.com.