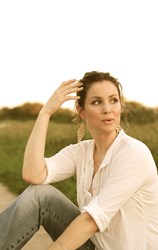 There's so much more spontaneity when two people are bantering back and forth - it doesn't matter if the topic is poignant or pointless, it's going to be good. - Michelle Colston
(PRWEB) January 09, 2014
Building off the success of her first critically acclaimed book, The Undiscovered Goddess, author Michelle Colston today announced the launch of a brand new online radio show on Blog Talk Radio. The show will focus primarily on interviewing interesting, influential people in a lighthearted, unconventional manner.
"I'm starting fresh with this new show," says Colston. "Instead of the typical 'host/guest' format you find in talk radio, I'll have a new co-host every week. There's so much more spontaneity when two people are bantering back and forth – it doesn't matter if the topic is poignant or pointless, it's going to be good."
To kick off the first segment of Confabulous, Colston recently sat down with Margaret M. Lynch – an author, motivational speaker, and "rockstar millionaire success coach." Recognized as the "Wealth Manifestation Authority" by the Wall Street Journal, Lynch created a million-dollar business in under four years and now coaches clients on finding their individual road to success.
The interview, now available for listening on blogtalkradio.com, exemplifies the mission of the show by tapping into exactly what inspires a person who is, herself, inspirational. Chatting about everything from oysters and carbs to women's roles in society, the informative and entertaining conversation marks a strong starting point for what will surely become a go-to favorite in the world of online radio.
As with Colston's other pursuits, Confabulous was born out of the author's passion for creative expression in a raw, unadulterated, authentic voice. Listeners can follow the show by visiting the "Confabulous! by Michelle Colston" page on Blog Talk Radio: http://www.blogtalkradio.com/confabulous
About Michelle Colston
Michelle Colston is a mother, writer and all-around American neurotic. What first began as a hobby, writing irreverent jokes and "Get to Know Your Friend" emails, has developed into a full-fledged vocation. Michelle draws inspiration from the simple experiences of daily life: womanhood, friendship, a perpetual identity crisis and wrangling three children, a messy house and a writing career–all while trying to refrain from using the F-word excessively. She is the author of "The Undiscovered Goddess," host of the new internet radio talk show of the same name, and is currently studying Woman's Issues & Gender Studies at the University of Massachusetts while working toward her Life Coaching Certification. For more information, visit http://www.theundiscoveredgoddess.com, like The Undiscovered Goddess on Facebook and follow on Twitter @McGoddess.