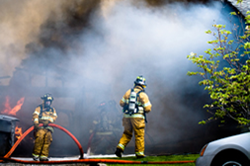 In the eleven years we have been in business we have successfully settled hundreds of property loss claims, including multi-million dollar residential and commercial loss claims. said Nik Kalaj Michigan Fire Claims Inc. president and founder
Auburn Hills, MI (PRWEB) March 20, 2014
Michigan Fire Claims Inc., a public adjusting company based in Auburn Hills, Michigan, announced today it celebrates 11 years in business. With a staff of fifteen claim adjusting professionals, including public adjusters, property loss consultants and property loss appraisers, Michigan Fire Claims has now been serving the Metro Detroit area and Southeast Michigan for more than a decade. A satellite office in Grand Rapids serves Southwest Michigan, while the Ohio, Maummee based business division - Ohio Fire Claims, serves residential and commercial customers throughout the state of Ohio.
Michigan Fire Claims Inc. represents the interests of the policyholder in the insurance claim process and negotiates on the behalf of the insured for the best possible settlement under the insurance policy. In the eleven years in business, Michigan Fire Claims, Inc. has helped with more than 1800 property loss claims, both residential and commercial. The most common types of property loss claims the business services include fire claims, water damage claims and storm damage claims.
"People contact us when, after suffering a property loss, they find themselves overwhelmed or intimidated by the insurance claim process. They may not understand their rights or responsibilities under the policy, may not agree with the appraisals put forth by the insurance adjuster, or may feel shortchanged by the settlement offered. Documenting and filing a property loss claim can be a laborious and difficult process. When working with a company like Michigan Fire Claims, Inc., we do all the hard work, from documenting and appraising the losses, to filing the claim and negotiating with the insurer on our client's behalf," said Matt Slotka, company vice president.
Michigan Fire Claims was founded in 2003 by Nik Kalaj after working in the industry and realizing the tremendous value and peace of mind a public adjuster can offer to policyholders after a property loss. The industry has become more crowded since, but Michigan Fire Claims stands out as one of the most well know and reputable public adjuster company in the region.
"In the eleven years we have been in business we have successfully settled hundreds of property loss claims, including multi-million dollar residential and commercial loss claims. A lot has changed during this time, but the things that continue to make us successful have stayed the same: honesty, professionalism, complete dedication to each and every customer and always delivering on our promises. Most policyholders are not even aware of the services provided by public adjusters. They end up contacting Michigan Fire Claims in moments of profound crisis, when their claims gets denied, or when they feel cheated out of a fair settlement. We make it our mission to use our industry knowledge and resources to assure the best possible outcome for each and every property loss claim," said Nik Kalaj, company president and founder.
About Michigan Fire Claims:
Michigan Fire Claims is a public adjusting company specializing in residential and commercial disaster recovery consulting and property loss adjusting. Michigan Fire Claims has licensed public adjusters, appraisers, building estimators and content estimators represent the homeowners or business owners to expedite the claim process and help their financial recovery after a catastrophic event. Michigan Fire Claims handles fire claims, smoke damage insurance claims, water damage claims, and other property loss claims, and is licensed in the State of Michigan, a standing member of Michigan Association of Public Insurance Adjusters, of National Association of Public Insurance Adjusters, of Leading Public Adjusters and the Better Business Bureau in Auburn Hills and Grand Rapids.
The Ohio business division, Ohio Fire Claims Inc., provides public adjuster services and loss consulting to Ohio residential and commercial customers. Ohio Fire Claims is licensed in the state of Ohio to handle all types of property loss claims for Ohio residents, including fire claims, water damage claims, storm damage claims and vandalism claims.