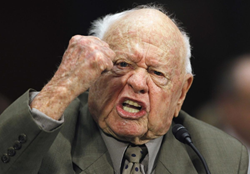 A Trustee should be carefully considered before they are hired. Estate planning does not have to end with the creation of an irrevocable trust; grantors can still sit down and talk to financial advisers about ways to manage and maximize their assets.
Boston, MA (PRWEB) April 30, 2014
From vaudeville to silent film and from Broadway to the silver screen, Mickey Rooney spent decades at the top of Hollywood's entertainment totem pole. According to an Associated Press report published by CBS Channel 6 in Albany. Rooney's body of work as an extremely successful actor and performer lasted more than 80 years (1), which makes it hard to believe that the value of his estate was only $18,000 when he passed.
"This is very sad news. The Mickey Rooney estate is often discussed in financial planning circles as an ethical matter and a cautionary tale," explained Rocco Beatrice of UltraTrust.com. Mr. Beatrice is the Managing Director of Estate Street Partners, LLC, and he is referring to the contentious conservatorship battle over the Rooney estate, which dates back to 2011. The case is Michael R. Augustine v. Christopher Thomas Aber et al., BP126970, in the Superior Court of the State of California, County of Los Angeles.
About a month before passing away at the age of 93, Rooney executed a will and his final trust amendment (1). Citing reports from the Los Angeles Times and the Associated Press, the Tulsa World News explained that Rooney died in his sleep and left the bulk of his estate to a stepson who had acted as the Hollywood legend's caretaker in recent years (2).
The major beneficiary of the Rooney trust is Mark Rooney (1); the late actor's widow will also receive a small part. In recent years, Rooney moved in with his stepson after the court approved his request to return to work at the age of 90 for the purposes of repaying his substantial debts (3).
"There were allegations of elder abuse and financial mismanagement of the trust that Rooney had created in 2003." Mr. Beatrice is referring to the aforementioned case, which the BBC reported in 2011. According to the BBC, Rooney was forced by another stepson from his eighth marriage to sign away his fortunes (4). The BBC also reported that the court quickly moved to appoint a conservator after an investigation determined that $400,000 had vanished.
Although Rooney had nine children of his own, he did not include them in his trust or his will (5). The Beverly Hills Courier reported that Rooney passed away virtually penniless and owing taxes to the California Franchise Tax Board and the Internal Revenue Service. "If the reported $18,000 were held in an irrevocable trust, Rooney's stepson will not have to worry about tax collectors knocking on his door," explained Mr. Beatrice. "Many of our clients are specifically concerned about estate taxes as they do not want to burden their children and survivors with probate or visits from the IRS. Wills and certain types of trusts do not offer protection against estate taxes, but irrevocable trusts do."
In Rooney's case, the conservator claimed, according to CBS, that the legendary performer was subject to 10 years of abuse, which essentially left him with no control over his assets or even his life (6). Before this complaint by the conservator, BBC stated that Rooney had testified in court that he was so penniless that he only had one change of clothing and one pair of shoes, and that he could not even buy his wife's flowers for Valentine's Day (4). Other allegations against the stepson, according to CBS, include writing fraudulent checks and forcing Rooney to order debit and credit cards that were maliciously used to systematically decimate his estate (6).
Even after Rooney passed, relatives feuded over burial plots and plans for a tribute. According to The Guardian, the estate's conservator and executor was at odds over finding a place for Rooney's eternal rest because the money was insufficient (7). Although a burial plot in Los Angeles was owned by the estate, Rooney wished to rest in either Hollywood or at a veteran's cemetery. Considering that according to the Guardian, Rooney was a decorated Army soldier who participated in World War II (8), a veteran's burial would have been the less costly option, especially since his survivors are currently asking for donations to cover outstanding debts and expenses (9). In the end, the family feud was settled by a burial at the Hollywood Forever Cemetery.
Mr. Beatrice commented on Rooney's case: "Trusts and other estate planning instruments can help prevent family feuds such as this one; however, it comes down to choosing trustees and others who can really be trusted to carry on certain financial duties. Let's not forget that grantors, those who create and fund the trust, are not impervious to undue influence from outsiders. As sad as this may sound, the likelihood of someone taking advantage of the trust and confidence of others increases when elderly people are involved."
"When setting up irrevocable trusts, we sometimes recommend nominating an independent and professional trustee," continued Mr. Beatrice, "there are several reasons for this; the most important being that it is better to work with trustees who have experience and an established track record with no ethical complaints or violations. In this fashion, professional trustees only carry out the instructions of the grantor without any conflicts of interest. As to these instructions, they should be carefully considered before they are given. Estate planning does not have to end with the creation of an irrevocable trust; grantors can still sit down and talk to financial advisors about ways to manage and maximize their assets. The key is to always keep control of the assets, which is the peace of mind that irrevocable trusts provide. "
About Estate Street Partners (UltraTrust.com):
For 30 years, Estate Street Partners has been helping clients protect assets from divorce and frivolous lawsuits while eliminating estate taxes and probate as well as ensuring superior Medicaid asset protection for both parents and children with their Premium UltraTrust® Irrevocable Trust. Call (888) 938-5872 to learn more.
#
Sources:
1 – cbs6albany.com/news/features/top-story/stories/rooneys-estate-goes-stepson-caretaker-15289.shtml 4/9/14
2 – tulsaworld.com/dailybreak/mickey-rooney-s-death-stirs-dissension/article_92e98eac-bff3-11e3-86b6-0017a43b2370.html 4/9/14
3 – usatoday.com/communities/entertainment/post/2011/03/mickey-rooney-ready-for-work/1 3/28/14
4 – bbc.co.uk/news/entertainment-arts-12874412 3/27/14
5 – bhcourier.com/beverly-hills-news-judge-orders-rooneys-body-held-mortuary-pending-dispute-settlement/2014/04/09
6 – losangeles.cbslocal.com/2011/09/15/mickey-rooney-conservator-file-2nd-elder-abuse-claim-against-his-kin/ 9/15/11
7 – theguardian.com/film/2014/apr/09/mickey-rooney-cuts-family-out-of-will?CMP=EMCNEWEML6619I2 4/10/14
8 – theguardian.com/film/2014/apr/07/mickey-rooney-obituary 4/7/14
9 – mickeyrooney.com/ 4/23/14