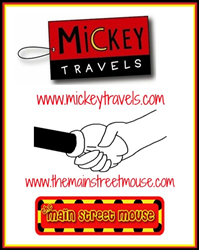 Our goal is always to align ourselves with the best of the best...
Long Valley, NJ (PRWEB) August 01, 2014
Beginning August 1, 2014, MickeyTravels, LLC is proud to announce it will become the official travel agency sponsor of The Main Street Mouse. This partnership will enable fans of both companies to be among the first informed about breaking Disney news, deals, discounts, and promotions.
"Partnering with The Main Street Mouse will give MickeyTravels' clients and fans a unique opportunity to learn the latest and greatest Disney news from the preeminent online source for Disney fans worldwide," said Elyssa Antonelle, Founder of MickeyTravels. "Our goal is always to align ourselves with the best of the best. Our clients trust us to find them the best Disney vacation deals at the lowest possible price. Throughout the vacation planning process and once they're booked, we're now able to send them without hesitation to a premier fan site for Disney news and information as they count down the days to their Disney vacation.
MickeyTravels, LLC has 85 agents located across the country and boasts a fan base of well over 100,000 on its combined Facebook pages. Their travel agents are considered by their clients to be far and away the best in the industry. "We're proud to be considered an elite organization within the Disney vacation planning industry and this partnership only solidifies that standing further," Antonelle stated.
The Main Street Mouse is widely thought of as the online community's favorite Disney fan site and the leading authority on Disney related news. Their Facebook page consists of well over 300,000 highly engaged fans and Disney lovers.
"We're excited to be partnering with MickeyTravels," said Michele Atwood, Founder of the Main Street Mouse. "We view this opportunity as a huge win-win for both companies. We're confident in knowing if our fans reach out to MickeyTravels regarding possible Disney vacations, they're dealing with one of the leading firms in the travel industry. Their clients are also going to benefit from TMSM as we only put out official Disney news in addition to personal stories and reviews."
To learn more about MickeyTravels, their free vacation planning services, or for a free quote on your Disney vacation, please contact Elyssa Antonelle at elyssa(at)mickeytravels(dot)com. To learn more about The Main Street Mouse and their industry leading Disney news sites, please contact Michele Atwood at michele(at)themainstreetmouse(dot)com.