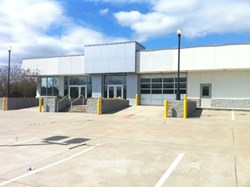 Macon, GA (PRWEB) October 15, 2013
A 22,000 square foot building on 2.4 acres of commercial property is set for auction in Macon, GA, and the seller expects it to last only until the Micoley.com Real Estate auction event being held on October 26th. Micoley's events garner a large amount of attention, and in the lead up to an auction, transactions often occur well before the sound of the auctioneer's gavel.
To bid on this former car dealership or make an offer, interested buyers need only register at Micoley.com. Once there, they can access information exclusive to registered users, ask questions online, and place their offer at any time. This seller fully intends to entertain early offers.
With ample parking, where the dealership's inventory used to be kept, and a large interior sales and service area downstairs with office space upstairs, this retail location could be easily revitalized and made into another thriving auto dealership.
Other potential automotive uses for this property include:

Auto mechanic's shop, as there is more than ample garage space.
Car rental agency.
Auto parts retail.
Showroom style setting for sales of farm equipment.
Additionally, the property could be re-purposed as a different type of business altogether. Other such properties have turned the inventory parking areas into customer parking lots. The following are potential uses:

Supermarket.
Multipurpose mini mall or retail space similar to a truck stop.
Chain retail or large book store.
Innovative restaurant.
All business possibilities should bear in mind the property's C2 zoning.
Macon, GA is a thriving city of well over 100 thousand residents, with a local economy benefiting from the recovery of the U.S. economy. Central Georgia, including Macon, includes some of the country's most vibrant industrial sections. Much of the fabrication in the United States takes place in the area. Nearby Robins Air Force Base alone has a civilian workforce of 23,000 individuals, earning a combined income of $1 billion per year.
Opening bid for this piece of Real Estate will be $750,000, well below its owner's original listing price of $1.3 million. Interested parties do not have to be on-site for the auction, as all bidding will take place online.
Offers are expected during the lead up to the auction, and the seller has expressed interest in entertaining them. Properties such as this are frequently sold ahead of their auction date and time. Those who register any time from now until August 24th, 2013 may place bids during the auction time of 11:00AM to 2:00PM CDT.
As always in Real Estate, buyers should seek answers to all questions they may have, either by visiting http://micoley.com to find more photos and details about the property, or by visiting in person and performing an inspection on site. 1-866-378-2382 is Micoley.com's information line. Additionally, Micoley.com features a live chat service through which questions can be answered.
Green Bay, WI-based Micoley.com is a Real Estate marketing firm specializing in project focused auctions of bank-owned properties throughout the United States. The Micoley approach to Real Estate marketing tailors each auction plan to the client's individual needs. The site is constantly being updated for the benefit of buyers, as large scale auction events are held monthly and new properties are added daily. Broker & Auctioneer Wade Micoley #341783 & #AU003815.