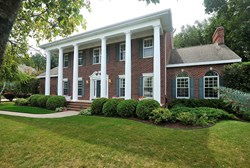 Milwaukee, WI (PRWEB) November 05, 2013
Wade Micoley, President and CEO of WM Enterprises, Inc., and the online auction house Micoley.com, has been in the Real Estate business through its ups and downs over the past three decades. He knows Americans are wary of good news from the world of Real Estate these days. "We're happy to see things recovering of course," he says, "but we've never been so cautious about expressing our optimism."
He says, however, that the pace at which the recovery is being seen shows that investors have learned valuable lessons. "Even with renewed sales and profitability, we're seeing signs of unprecedented stability." Stability of this type is exactly what everyone wants to see in 2013.
Micoley.com's September and October auction events were enormously successful, with a larger-than-ever number of offers coming in before the auction dates. However, despite overall economic growth, the country as a whole didn't buy more homes in September than in August. With approximately 5.3 million sales in both months, it's hardly a staggering boom. Micoley says this is actually good news.
When investors take an interest in something, it tends to attract the attention of other investors, who will do the same. The result can be significant economic growth over a short time. However, if the assets become overvalued, and investors continue to invest, only to realize all at once that their investments aren't as valuable as they once thought, it can result in a rapid regression that undervalues those same assets in a short time. This can be dangerous, economically.
Real Estate investors are showing renewed interest in buying property, but they aren't overeager, despite September being a month of growth overall.
Micoley recommends this kind of level headedness across the board. Other types of real estate auctions encourage buyers to invest blindly, responding to enthusiastic sellers and the suspense of an auction atmosphere. At Micoley however, buyers are encouraged to research their potential new properties, learn their histories, talk to neighbors, and visit them in person before placing an offer.
Micoley auctions include much more than homes. Investors can bid on tracts of land for future residential developments, commercial real estate, and turn-key businesses. With the Real estate market showing signs of recovery and increased appraisal values, properties available on Micoley.com consistently sell for prices buyers feel are below their expectations. However, since the principle of the auction results in rapid negotiations, the sellers are consistently satisfied by the sale prices as well.
Frequently, however, Micoley's properties are sold when a potential buyer makes an offer prior to the start of the auction. While certain types of optimism and exuberance would be unwelcome in the Real Estate world at the moment, this acceleration of sales is part of what is driving economic recovery.
Interested parties should visit http://micoley.com to find more photos and details about all properties available, or by visiting in person and performing an inspection on site, which is highly recommended. 1-866-387-2382 is Micoley.com's information line. Additionally, Micoley.com features a live chat service through which questions can be answered.
About Micoley:
Green Bay, WI-based Micoley.com is a real estate marketing firm specializing in project focused auctions of bank-owned properties throughout the United States. The Micoley approach to real estate marketing tailors each auction plan to the client's individual needs. The site is constantly being updated for the benefit of buyers, as large scale auction events are held monthly, and new properties are added daily. WM Enterprises, Inc. Broker Firm # 835181-91 & Broker Wade Micoley #43427-90. Registered Wisconsin Auctioneer Wade Micoley #2647-052 & Micoley.com LLC Firm #432-052.