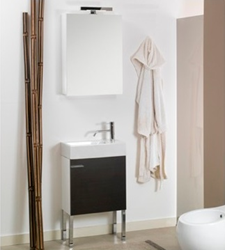 Micro bathroom vanities are designed to be both narrow and shallow, so they sit close to the wall and can be installed almost anywhere.
(PRWEB) April 25, 2014
HomeThangs.com – the Online Home Improvement Store has made their goal to deliver the right product to the consumer. With that in mind, shopping and home design tips, as well as special product selections are being introduced.
There's a big difference between a bathroom that's small and a bathroom that's tiny. In a small bathroom, there's not much room for furniture. In a tiny bathroom, there isn't much room to stand. Usually the latter is reserved for tacked-on half bathrooms used mostly for guests or when all the other bathrooms in the house are occupied. But for those times when efficiency sized bathrooms are used more frequently (or even primarily), HomeThangs.com has introduced a guide to one simple solution: micro bathroom vanities.
Ordinarily, in a very small half bathroom, a wall mounted sink will do. For an infrequently used space, they offer the perfect combination of compact size and functionality. But if the bathroom is used for more than just hand washing, a bare bones sink won't cut it. That's where micro bathroom vanities come in: adding a simple, compact cabinet to that petite sink, creates much needed storage space for toiletries.
Micro bathroom vanities work well in tiny bathrooms because they're designed to be both narrow and shallow, so they sit close to the wall and can be installed almost anywhere. Bathroom vanities generally have to be much larger because they accommodate a full-sized sink and faucet, but micro bathroom vanities take a page from the wall mounted sink's playbook, offsetting the faucet to one side and slimming down the sink so the whole vanity protrudes less than a foot from the wall.
Any cabinet that will fit on a sink that small won't be anywhere near full sized, but it will provide the basic storage that wall mounted sinks simply don't have. The best of these very small bathroom vanities aren't any wider or deeper than an equivalent sink, which means they won't take up any extra space in the dimensions that matter. Although the inclusion of a cabinet obviously makes the vanities much taller, it's in a space that would otherwise go unused.
On the inside, these cabinets are rarely more than a simple ledge that's less than a foot deep. But because the vanity as a whole is sized to match the petite sink, items stored in the cabinet are easy to reach and totally accessible. Occasionally this type of vanity might have a shelf on the inside, but more often than not these vanities are simply too small for a second shelf to be worthwhile.
That said, it is possible to find micro bathroom vanities that are on the wider side. These are ideal for very long, very narrow bathrooms that have minimal walkways but a little bit more length. Making the vanity wider will usually make it a bit thicker as well, but usually only by a few inches. These wider micro vanities are also a bit less minimalistic, with a greater quantity and variety of storage, and even a little smidge of counter space.
All that said, micro bathroom vanities are best reserved for truly tiny bathrooms or for hardcore minimalists. Cute though they undeniably are, they're really designed for efficiency rather than comfort. The sinks are very, very small, and the storage space is at an absolute bare minimum. The smallest models are based on vanities found in small boats and RVs, and should be used in bathrooms with similar space constraints, which is to say, where there simply isn't room for anything bigger.
To find out more about micro bathroom vanities, read the full article here, or check out more compact designs from Iotti.
HomeThangs.com is not only a home improvement superstore, it also provides expert design tips and a comprehensive shopping guide, taking the ideas from professional interior designers, and offering tips to the consumers on how to pick the products to best suit their needs.