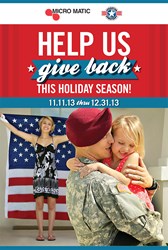 They give their all, it's time for us to give back to them now.
Northridge, California (PRWEB) November 11, 2013
Micro Matic USA, Inc. continues a holiday tradition of recognizing those that have served in our armed forces by supporting the veteran's charity organization Operation Homefront. The annual Micro Matic "Gives Back" campaign started in 2011.
Operation Homefront provides emergency financial and other assistance to the families of our service members and wounded warriors. The "Gives Back" campaign kicks off on Veterans Day, Monday, November 11th, and will go through December 31, 2013. During this time period, Micro Matic USA, Inc. will donate 5% of every online order to Operation Homefront.
"We started our 'Gives Back' campaign three years ago and we were encouraged by the outpouring of support from our customers and employees. The holiday season is a perfect time to reflect on the many sacrifices made by our troops and their families; they give their all it's time for us to give back to them now. We look forward to donating the proceeds of the 'Gives Back' campaign to Operation Homefront," said John Soler, Managing Director.
Supporting charities and our local communities is integral to being good corporate citizens; the "Gives Back" campaign reflects the Micro Matic commitment and continued support of this mission. This support comes at a time when Operation Homefront has seen an increase for requests for financial, housing and food assistance over last year.
Operation Homefront is a nonprofit 501(c)(3) organization with a mission to provide emergency assistance for U.S. military troops, the families they leave behind, and wounded servicemen when they return home. Funds raised provide emergency, financial, and morale assistance to families while troops are participating in a tour of duty. Operation Homefront began eleven years ago and has met over 741,000 needs of military families and military personnel returning from duty.
Find out more about Operation Homefront at http://www.operationhomefront.net/.
For more information about Micro Matic, visit http://www.micromatic.com, contact a Micro Matic sales representative by calling (866) 327-4159, or connect with us on Facebook and Twitter.
About Micro Matic USA, Inc.
Micro Matic is the world's leading manufacturer and supplier of keg valves and dispensing equipment in over 120 countries. Serving the U.S. market from four fully stocked regional warehouses staffed with knowledgeable personnel, Micro Matic also operates the Dispense Institute where field-trained instructors conduct hands-on draft beer dispensing courses, as well as on-site workshops. In addition, the company website offers a wealth of dispensing information "white papers" along with interactive video presentations.
Company Information:
Micro Matic USA, Inc.
19791 Bahama Street, Northridge, CA 91324 USA
Phone: 818-882-8012
FAX: 818-341-9501