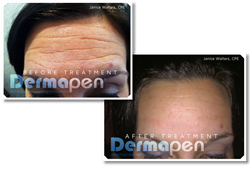 "We are excited to be back at the AAD Summer Show - Advancing the Science of Micro Needling is what we are all about at Dermapen, what better place to exhibit then at AAD, Dermatologist around the World have come to Love Dermapen" said Mike Morgan - CEO
New York CIty, New York (PRWEB) August 01, 2013
Derma Pen, LLC will be exhibiting micro needling treatments at the 2013 American Academy of Dermatology Summer Meeting, July 31st through August 4th, being held in New York City at the New York Hilton Midtown. Derma Pen, LLC is proud to be showcasing our innovative product, the Dermapen®, the world leader in the education and distribution of micro needling devices, a new series of topical serums, and a complete micro needling training and certification program through industry partner NeedleLogics.
Dermapen® is an advanced skin therapy innovation and is the new industry standard in advanced skin micro-needling. The Dermapen is a fractional micro-needling device that works to tighten, lift and rejuvenate the skin. It is effective in reducing fine lines and wrinkles, minimizing pore size, stretch marks, keloid, surgical and acne scars. The Dermapen has been shown to aid in wound healing and stimulation. It can be used on all 7 skin types and on all skin pigments. There is little to no down time for patients.
Dermapen® treats a wider range of skin conditions, allowing medical professionals to offer a wide range of stand-alone treatments as well as combining off-label treatments such as PRP therapy, IPL, laser resurfacing, micro-dermabrasion, chemical peels, and more.
The unique spring-loaded micro needle tip of the Dermapen uses an automated, stamp-like motion that enhances results while offering a more controlled and safer method of treatment than other micro-needling devices such as dermal needling rollers. This automated needling motion minimizes pain and discomfort, while better promoting an even absorption of cosmeceuticals, such as PRP, hyaluronic acid, hydrogenated collagen, Vitamin C and peptides into the skin. The results are youthful looking skin with even tone and texture.
The Dermapen's micro pen needle tip depth can be adjusted during the course of treatment and the device can easily be maneuvered around facial contours and delicate features such as the eyes, nose and mouth. The multiple needles penetrate all skin types, textures and pigments without the risk of bending, breaking or causing more epidermal damage. This leads to enhanced collagen and elastin rejuvenation and shorter recovery time for patients.
A broader range of treatments and the ability to treat all skin types, combined with low cost disposable needle tips, makes Dermapen a great investment for skincare professionals. The implementation costs of Dermapen are extremely low and will help increase revenue and provide a great return on investment for any plastic surgery, dermatology or oculoplastics office.
Please visit Dermapen® at Booth #925 at the 2013 American Academy of Dermatology Summer Meeting at the New York Hilton Midtown July 31st through August 4th.
For more information about Dermapen, please call (800) 981-5402, email Info(at)Dermapen(dot)com, or visit us online at dermapen.com.
Find Dermapen on Facebook at http://www.Facebook.com/Dermapen. Follow Dermapen on Twitter at http://www.Twitter.com/Dermapen. View Dermapen in action on YouTube at http://www.YouTube.com/Dermapen.
Derma Pen, LLC is a cosmetic device and consumable marketing company that trademarks, brands, and distributes cosmetic equipment and consumables. The Dermapen® micro pen needling device and its products are sold directly to plastic surgeons, dermatologist, physician and medical spa markets. The device has been designed and manufactured with the cumulative effort of leading technicians and experts in multiple countries. The market segments are defined as licensed estheticians, medical spas and retreats, dermatologist offices and related cosmetic surgeon practices.