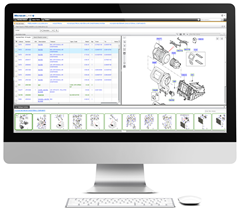 Our Microcat LIVE technology supports dealerships with this objective, by providing the flexibility of a fully online EPC that can be used anytime from any place
(PRWEB) February 02, 2016
Global leader in automotive software, Infomedia Ltd (ASX: IFM), announced today the renewal of its agreement with Jaguar Land Rover Limited (JLR) to produce and supply its Microcat® brand Electronic Parts Catalogue (EPC) to Land Rover dealerships, globally. The renewed agreement allows Infomedia to continue supplying its totally cloud-based solution, Microcat® LIVE™ through to the end of 2017.
Microcat LIVE advances dealership productivity and profitability by empowering dealerships to rapidly and accurately identify a correct replacement part for a specific vehicle, from the hundreds of thousands of parts in an OE (automaker) inventory. Land Rover dealerships across the world first started using Microcat DVD version in 2001 and in early 2011 were amongst the first in the world to commence using the SaaS implementation of Microcat LIVE.
Infomedia's Chairman, Fran Hernon, said: "We are proud that Microcat LIVE will continue to play a part in making dealerships more competitive for JLR globally."
Microcat EPC has led innovation across the industry for over 25 years. It has introduced many firsts in its product category, such as VIN-based parts interpretation, DMS (Dealer Management System) interfacing, user ergonomics, information localisation and multilingual operation, to mention just a few. Today, the cloud version Microcat LIVE is the most sophisticated online EPC in the industry, supported by leading edge cloud infrastructure that supports 150,000 daily users in 186 countries.
Microcat LIVE for Land Rover is integrated to major global DMS providers, empowering dealership staff with fast and seamless software assisted sales completion.
Ms Hernon added: "Globally, we are seeing OEM dealerships shifting the focus of their technology from making back of shop efficiencies to creating new sales processes, and improving customer experiences. Our Microcat LIVE technology supports dealerships with this objective, by providing the flexibility of a fully online EPC that can be used anytime from any place."
Mr Jason Thorpe, European Managing Director said: "Microcat LIVE provides Land Rover dealerships the benefit of automated catalogue updates with no manual work required by staff to keep the EPC up to date. This 'always on – always up to date' solution approach adds value across the entire parts value chain, and ensures maximum gains from the dealerships' technology investment."
About Infomedia
Infomedia (ASX:IFM) is a leading global provider of SaaS solutions to the parts and service sector of the automotive industry, supplying online parts selling systems, sophisticated service selling systems, a range of publications, data analysis and information research to over 150,000 users of products in more than 186 countries. For more information, visit http://www.infomedia.com.au.
Media contact:
Peter Petrovski
Director of Marketing
ppetrovski(at)infomedia.com(dot)au
+61 (0)412 101 261