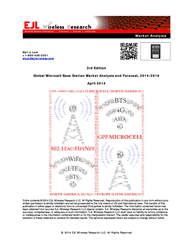 The mBTS market remains a waiting game for the industry.
Salem, NH (PRWEB) April 24, 2014
The global microcell base transmitting station (mBTS) market will reach USD $262 million in revenues by 2018, according to the latest report from EJL Wireless Research titled "Global Microcell Base Station Market Analysis and Forecast, 3rd Edition, 2014-2018." "Low volume shipments continued in 2014 however push outs and delays in North America and Europe have dampened any near term hopes of significant volumes to be deployed by mobile operators, While the wireless industry continues to cite ever increasing mobile broadband data traffic growth, initial focus for mobile operators will remain on coverage strategies and not for capacity expansion within macrocells. Due to these trends, we have significantly downgraded our views, forecasts, and revenue opportunities on the outdoor microcell market. It remains a waiting game for the industry" says founder and President, Earl Lum.
Some key predictions from EJL Wireless Research LLC are:
Global Microcell BTS revenues of USD $262 million by 2018
Insignificant Outdoor Carrier-Grade 802.11ac WiFi deployments by mobile operators
Asia Pacific and North America will drive volumes through 2018
China will drive demand from 2014 through 2016
The report is currently available for purchase and information can be downloaded at http://www.ejlwireless.com.
About EJL Wireless Research LLC
EJL Wireless Research LLC provides proprietary, accurate and cutting-edge market analysis and consulting services on the wireless technology ecosystem and defense and aerospace industries. The firm's wireless infrastructure research division focuses on all vertical elements of the wireless ecosystem including mobile subscribers, mobile operators, mobile handsets, mobile infrastructure and mobile content. In addition, the firm provides analysis across horizontal technology suppliers including RF semiconductor materials, RF semiconductor/components, subsystems and OEMs. Similarly, the defense and aerospace division focuses its efforts on the ecosystem supporting UAV and airborne platforms and subsystems. Our goal is to provide our clients with mission critical market analysis and information.
EJL Wireless Research LLC believes it has a corporate responsibility, both local and international, in giving back to the community. Please visit our website for more information about the charitable organizations it supports at: http://www.ejlwireless.com/corporate_responsibility.html.
EJL Wireless Research LLC is managed by Earl Lum. Mr. Lum has 20 years of experience within the wireless industry including 8 years as an Equity Research Analyst on Wall Street covering the global wireless industry. The company is headquartered in Salem, NH. For more information about EJL Wireless Research, please visit the company's websites at http://www.ejlwireless.com, http://www.ejldefense.com or our weblog at http://ejlwireless.wordpress.com.