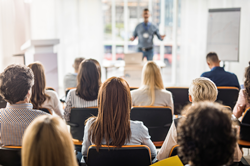 "A new era in diagnosis of orthopedic infections has begun," says Javad Parvizi, MD "At last we have an alternative to the primitive, inaccurate, and costly technique of culture. NGS elevates the science of microbiology into the 21st century and is changing the lives of patients."
ORLANDO, Fla. (PRWEB) April 08, 2019
MicroGenDX, the world leader in Next Generation DNA Sequencing (NGS) in microbial identification took the podium an unprecedented three times at the largest and most reputable orthopedic conference in the world held by the American Academy of Orthopedic Surgeons (AAOS).
Only five percent of 1,600 clinical trials are invited to present and MicroGenDX had three studies selected for the honor. The research put forth by some of the top centers in the United States, to include Mayo Clinic, Cleveland, Rush, and Thomas Jefferson, revealed MicroGenDX NGS to be a superior diagnostic tool to conventional culture technique.
"A new era in diagnosis of orthopedic infections has begun," says Javad Parvizi, MD Vice Chairman of Research and Professor of Orthopedic Surgery at the Rothman Institute at Thomas Jefferson University. "At last we have an alternative to the primitive, inaccurate, and costly technique of culture. NGS elevates the science of microbiology into the 21st century and is changing the lives of patients. Rooms filled with orthopedic surgeons and scientists eagerly listened on how NGS has been changing the lives of patients. The AAOS was a spectacular scene when the results of many studies that MicroGenDX has supported were presented.
In addition to the podium honors at AAOS, MicroGenDX presented data at the International Consensus Meeting (ICM) as part of the Musculoskeletal Infection Society (MSIS) and received 90% voting approval to be added to the Consensus Guidelines Book as a diagnostic tool.
MicroGenDX's CEO, Rick Martin, is excited that NGS is receiving global attention from industry-leading surgeons. "NGS is a powerful diagnostic tool that pulls back the curtain on multiple microbial species in orthopedic infections. Leading the infection diagnosis conversation at AAOS is a major step toward our ultimate goal to revolutionize diagnostic testing, and have patients experience better outcomes."
AAOS is the preeminent provider of musculoskeletal education to orthopedic surgeons and others in the world. Its Annual Meeting the largest and most reputable orthopedic conference in the world with surgeons from across the globe presenting leading research in the field.
About MicroGenDX (Formerly PathoGenius)
MicroGenDX is the global leader in molecular testing services through PCR and Next Generation DNA Sequencing to identify microbes in human samples. We are a state-of-the-art CAP accredited, CLIA licensed Molecular Diagnostic facility backed by a team of molecular biologists, biochemists, bioinformaticians, computer scientists, and physicians. Our advanced instrumentation provides the industry's most informative microbial diagnostic tests for ENT, Orthopedic, Urology, Wound Care, Podiatry and other areas of medicine.