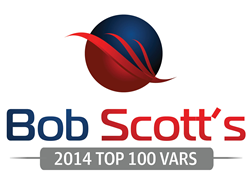 We're excited to be part of this renowned list of the top value added resellers in the US
San Diego, CA (PRWEB) July 10, 2014
FMT Consultants, a leading San Diego and Los Angeles-based Value Added Reseller (VAR) of Microsoft, NetSuite and SAP solutions, has been named to the Bob Scott's Insights Top 100 VARs for 2014. The Top 100 resellers are chosen from organizations specializing in the sale and implementation of Enterprise Resource Planning (ERP) and accounting software.
Since 1995, FMT Consultants has been partnering with emerging to mid-sized companies to increase profitability through innovative and efficient use of technology solutions. FMT Consultants leverages the expertise of 50+ passionate technology experts and a wide array of cloud-based and on-premises ERP and accounting software solutions including Microsoft Dynamics GP, SAP Business ByDesign and NetSuite.
"At FMT we're experiencing tremendous growth. Our revenue growth averaged over 20% the last several years. In addition, we've been adding great new team members, and have recently expanded into the Los Angeles market with the opening of a new office. We're excited to be part of this renowned list of the top value added resellers in the US," says Eric Casazza, CEO of FMT Consultants.
The selection for the list is based on annual revenue generated by each reseller.
"We want to congratulate this year's class of Bob Scott's Top 100 VARs," said Bob Scott, executive editor of Bob Scott's Insights.
About FMT Consultants
FMT is a leading provider of integrated business solutions and information technology services throughout the US and Canada with a significant presence in Los Angeles County, Orange County and San Diego County. Since 1995, FMT's experienced team of experts has been partnering with clients to integrate, configure and customize innovative technology solutions to help them improve and streamline their business operations. The company is headquartered in Carlsbad, CA and recently expanded into the Los Angeles market with the opening of a new office. Visit http://www.fmtconsultants.com or call (760) 930.6400 for more information.
About Bob Scott
Bob Scott has been informing and entertaining the mid-market financial software community via his email newsletters for 15 years. He has published this information via the Bob Scott's Insights newsletter and website since 2009.
He has covered this market for 23 years through print and electronic publications, first as technology editor of Accounting Today and then as the Editor of Accounting Technology from 1997 through 2009. He has covered the traditional tax and accounting profession during the same time and has continued to address that market as executive editor of the Progressive Accountant since 2009. A special report that includes names of the organizations selected for this year's Top 100 list, ranked by revenue, is downloadable at http://www.bobscottsinsights.com.