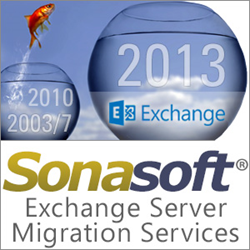 The end-of-life to Microsoft Windows Server 2003 support has led to an increase of Microsoft Exchange Server data migrations.
San Jose, California (PRWEB) July 14, 2015
Sonasoft Corp. (OTCPK: SSFT), a leader in Microsoft business software applications and email archiving/eDiscovery solutions announced that it is prepared for the anticipated increase in its Microsoft Exchange Server migration services due to the end-of-life of Microsoft Windows Server 2003 (WS2003) when its support expires today, July 14, 2015. To assist organizations upgrade to a recent version of Microsoft Exchange Server running on Microsoft Windows Server, Sonasoft will offer a 25 percent discount to its email archiving and eDiscovery software solution when bundled with an Exchange Server migration service.
"We have seen a sharp increase in demand for our SonaMigration, Microsoft Exchange Server Migration Services, due to the end-of-life to Microsoft Windows Server 2003", said Neil Kumar Khanna, Vice President of Client Services and Operations. "I've seen estimates that there are still eight to eleven million active licenses for Windows Sever 2003. I can confirm that we have seen a lot of customers who have been running Microsoft Exchange Server 2003 on Microsoft Windows Server 2003. Although Microsoft ended its support to Microsoft Exchange Server 2003 last year, these organizations chose to delay migrating their data to a recent version of Microsoft Exchange Server. Now that Microsoft will no longer offer security updates to either product, these same organizations have an immediate need to upgrade both their Exchange Server and Windows Server or risk that their data could be compromised from a newly discovered vulnerability. Fortunately, Sonasoft is well prepared to handle an increase in Exchange Server migrations, which will allow next to zero wait time for customers to migrate their data."
"We know that many of our customers have delayed migrating from Microsoft Exchange Server 2003 due to budget constraints", said Douglas MacKallor, Director of Marketing. "Therefore, to help these penitential customers make the transition, Sonasoft will offer a 25 percent discount to its SonaVault Email Archiving and eDiscovery Software Solutions along with the purchase of an Exchange Server migration service. When customers first archive the email data prior to the migration, they can reduce the storage size of their Microsoft Exchange Server by up to 80 percent. This reduction in data then allows for a quick migration to the new Exchange Server, which also helps to reduce the costs and keep within budget."
For more information and a complimentary consultation regarding a Microsoft Exchange Server Migration to Exchange 2010 or 2013:
http://www.sonasoft.com/products/microsoft-exchange-migration/exchange-2010-migration-services/
About Sonasoft
Sonasoft Corporation is a publicly traded corporation and is listed on the OTC Markets with the trading symbol SSFT. Sonasoft's core business model includes enterprise-class email archiving, eDiscovery, and business continuity software solutions for Microsoft Business Applications on Microsoft Windows platforms. Sonasoft's signature products for eDiscovery tools, which include SonaVault Email Archiving and eDiscovery Software, as well as SonaVault Email Archiving Appliances, deliver affordable enterprise-level functionality that exceeds compliance and ease-of-use requirements of small and medium-sized businesses, governments, school districts, organizations, and enterprises. Sonasoft recently expanded its product offering to include email archiving in the cloud as well as data export and migration services for competing archiving solutions. Sonasoft email archiving and eDiscovery solutions have hundreds of deployments with an exceptionally high degree of customer satisfaction. Founded in 2003, the company is headquartered in San Jose, California.
For more information about Sonasoft's email archiving solutions and business continuity software, contact:
Douglas MacKallor
Sales and Marketing for Sonasoft Corporation
Direct: (408) 708-4000
Source: http://www.sonasoft.com
# # #
Forward-looking Statements
This release contains statements that constitute forward-looking statements. These statements appear in a number of places in this release and include all statements that are not statements of historical fact regarding the intent, belief or current expectations of the Company, its directors or its officers with respect to, among other things: (i) the Company's financing plans; (ii) trends affecting the Company's financial condition or results of operations; (iii) the Company's growth strategy and operating strategy; and (iv) the declaration and payment of dividends. The words "may," "would," "will," "expect," "estimate," "anticipate," "believe," "intend," and similar expressions and variations thereof are intended to identify forward-looking statements. Investors are cautioned that any such forward-looking statements are not guarantees of future performance and involve risks and uncertainties, many of which are beyond the Company's ability to control, and that actual results may differ materially from those projected in the forward-looking statements as a result of various factors.