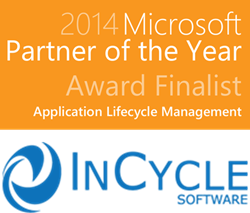 "This is truly a team achievement, we are very proud that Microsoft recognizes InCycle as a key ALM partner." Frederic Persoon, President of InCycle Software
Laval, Quebec, Canada (PRWEB) June 26, 2014
InCycle Software today announced it has been named a finalist in the 2014 Microsoft Application Lifecycle Management (ALM) Partner of the Year Award with Streamline Health's (NASDAQ:STRM) "DevOps Journey" submission. The company was honored among a global field of top Microsoft Corp. partners for demonstrating excellence in innovation and implementation of customer solutions based on Microsoft technology.
"This is truly a team achievement, we are very proud that Microsoft recognizes InCycle as a key ALM partner. We continuously improve in order to help our customers like Streamline Health achieve their ALM goals and being named a finalist in this prestigious category is a strong acknowledgement that our customers are in good hands", said Frederic Persoon, President of InCycle Software. "We are honored to be awarded and will continue to serve best-in-class services to our customers".
According to Mia McCroskey, Manager, Product Development at Streamline Health, "It was our structured and aggressive approach to improving stability and velocity from requirements gathering all the way through to automated deployment in every environment including client production that provided such a compelling story."
Awards were presented in multiple categories, with winners chosen from a set of more than 2,800 entrants from 117 different countries worldwide. InCycle Software was recognized for providing outstanding solutions and services in Application Lifecycle Management.
Application Lifecycle Management (ALM) is a set of processes, practices and tools used to manage the lifecycle of an application from design to deployment and support. ALM is becoming essential for organizations whose applications need to continually evolve to cost-effectively adapt to market needs. The ALM competency recognizes partner expertise in helping customers define, improve and manage their development lifecycle leveraging the powerful ALM features of Microsoft Visual Studio.
"This year's award winners were among some of the best and brightest our partner ecosystem has to offer, so it came as no surprise that InCycle Software was included in that group as this year's FINALIST of the 2014 Microsoft ALM Partner of the Year award," said Phil Sorgen, corporate vice president, Worldwide Partner Group, Microsoft Corp." "We congratulate InCycle Software on this amazing achievement and its continued dedication to providing innovative solutions that drive results for our mutual customers."
The Microsoft Partner of the Year Awards recognize Microsoft partners that have developed and delivered exceptional Microsoft-based solutions during the past year.
About Streamline Health
Streamline Health Solutions, Inc. (NASDAQ: STRM) is a healthcare industry leader in capturing, aggregating, and translating enterprise data into knowledge – actionable insights that reduce exposure to risk, enhance operational performance, and improve patient care. Through our Looking Glass™ Platform we provide clients with meaningful, intelligent SaaS-based solutions from patient engagement to reimbursement. For more information, please visit our website at http://www.streamlinehealth.net.
About InCycle Software
Microsoft Gold partner since 2005, InCycle Software is the North American leader in Application Lifecycle Management (ALM) consulting services that help .NET organizations go to the next level. For more information, please visit our website at http://www.incyclesoftware.com.
For additional information:
Nathalie Feau, 514.583.6240 nathalie(dot)feau(at)incyclesoftware(dot)com
Product or service names mentioned herein may be the trademarks of their respective owners.