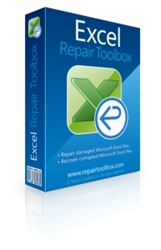 a new version of Excel Repair Toolbox, the ultimate Microsoft Excel 2010 repair tool.
Sacramento, CA (PRWEB) May 08, 2014
Repair Toolbox, one of the key players on the market of specialized data recovery tools, presents a major functional update for Excel Repair Toolbox, one of its best-selling products and a highly advanced Microsoft Excel 2010 repair tool. Now based on an entirely new data recovery engine, the program enables users to recover data from the most seriously damaged XLS/XLSX files in the shortest time possible. http://www.excel.repairtoolbox.com/microsoft-excel-repair-2007-tool.html
Excel Repair Toolbox is one of the most powerful and efficient Excel file recovery tools on the market. Known for its intuitiveness and ease of recovery in the most serious data corruption cases, the program has now been updated to a new version and received a number of improvements: from a brand-new data analysis and extraction core to countless bug fixes contributing to the overall better stability of the product. http://www.excel.repairtoolbox.com/
Intended for regular users and professionals of all levels, Excel Repair Toolbox offers a super-intuitive, straightforward and self-explanatory user interface that takes advantage of a multi-step wizard guiding users through the process. The program supports all versions of MS Excel spreadsheets and restores all of their valuable elements into a new Excel file ready for opening and editing. http://www.repairtoolbox.com/download.html
The new engine that was written from ground up offers an unmatched level of process automation, which means that the user is only prompted for a few simple actions during data recovery. This Microsoft Excel 2010 repair tool has a compact installation file and requires absolutely no additional components or libraries.
"The newest version of Excel Repair Toolbox is a considerable leap forward from its predecessors," said Ivan Bobrov, Head of Product Development at Repair Toolbox. "First of all, we used a completely new engine that uses a set of brand-new algorithms to restore data from files that other similar tools simply reject as trash. We are very proud of what we achieved with this product and hope to see our customers happy about the results of its work."
A free demo version of Excel Repair Toolbox can be downloaded free of charge from the official website of Repair Toolbox. http://www.repairtoolbox.com/