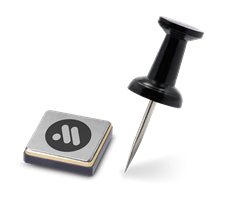 MELVILLE, N.Y. (PRWEB) May 17, 2021
Micross Components, Inc. ("Micross"), a leading global provider of mission-critical microelectronic components and services for high-reliability aerospace, defense, space and industrial applications announces an exclusive partnership with Avalanche Technology, the leader in next generation MRAM Technology. With this collaboration, Micross is the exclusive supplier of die and hermetically sealed devices utilizing Avalanche's next-gen Spin Transfer Torque Magnetoresistive Random Access Memory (STT-MRAM).
Micross' SWaP optimized hermetic STT-MRAM devices offer inherent protection from harsh environments, magnetic flux and radiation, while providing the most compact and best power profile non-volatile memory. MRAM devices are ideally suited for high-speed non-volatile memory applications, such as program storage and data backup in space and aerospace systems. Micross and Avalanche are addressing the need for more compact and lower power solutions that are optimized for hi-reliability aerospace & space applications, and are introducing a series of memory devices based on this best-in-class technology.
Micross is pleased to introduce the first of several densities to be released in the coming weeks for its new MRAM family, 16Mb STT-MRAM product variants (1M x 16 and 2M x 8) with Space and Military quality flows, and four hermetic 10mm x 10mm package variants (CLGA & CBGA in both 48 & 60 pad/solder-ball definitions) in RAD-HARD, RAD-Tolerant and Non-Radiation offerings. These products provide near infinite endurance with greater than 10-year data retention across the -40°C to +125°C temperature range. Both have a voltage operating range of 2.70-3.60V with a guaranteed minimum access time of 45ns across the military temperature range.

SPIN‐TORQUE, PERSISTENT MRAM 16Mb, 1M x 16
SPIN‐TORQUE, PERSISTENT MRAM 16Mb, 2M x 8
"We are excited to be working with Avalanche Technology and their industry-leading Spin Transfer Torque MRAM to expand our portfolio of hi-reliability solutions," said Vincent Buffa, Micross Chairman and CEO. "This collaboration enables Micross to provide OEMs of aerospace and space systems with the most advanced, compact and power efficient microelectronics technology available."
"With this new product release, Avalanche has enabled Micross to bring to market hi-reliability and space-grade non-volatile memory products that have the smallest form factor and lowest power," said Petro Estakhri, CEO at Avalanche Technology. "The new 16Mb STT-MRAM devices allow customers to design the most compact and efficient unified memory architecture systems for aerospace applications."
Related Link: http://www.micross.com/16MbMRAM
About Micross
Micross… The Most Complete Provider of Advanced Microelectronic Services and Component, Die & Wafer Solutions. With the broadest authorized access to die & wafer suppliers, and the most comprehensive advanced packaging, assembly, modification and test capabilities, Micross is uniquely positioned to provide unparalleled high-reliability solutions from bare die, to fully packaged devices, to complete program lifecycle sustainment. For more than 40 years, Micross has been a trusted source for the aerospace, defense, space, medical and industrial markets.
For additional information about MRAM products, http://www.micross.com/16MbMRAM or sales@micross.com
For more information about Micross, please visit http://www.micross.com. Follow us on Twitter or LinkedIn.
For Hi-resolution images and questions regarding article development, please contact:
Valerie Thomas, Sr. Marketing Communications Manager
Micross Components
Valerie.Thomas@micross.com
About Avalanche Technology
Avalanche Technology Inc. is the leader in next generation Perpendicular STT-MRAM technology, accepted as the front-runner to replace traditional Flash and SRAM for unified memory architectures in future SOC systems, delivering high performance and low power at 55, 40 and 28nm with scalability to 22 and 14nm. With a proven STT-MRAM portfolio at multiple geometry nodes combined with an intellectual property portfolio of over 300 patents and applications, Avalanche Technology is delivering on the promise of enabling the next generation of scalable embedded unified memory architecture for use in GPUs, MCUs, DSPs, ASSPs and ASICs, making it the true "Next Generation MRAM Company". For more information, visit us online at https://www.avalanche-technology.com.