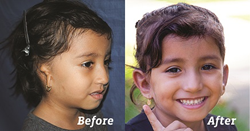 Undergoing reconstructive surgery earlier may be a protective factor for children with microtia.
Santa Monica, California (PRWEB) May 13, 2015
A beautiful baby is born with big brown eyes, ten fingers and ten toes--but only one ear.
How could that be? It is a condition called Microtia (which ranges from a smaller ear to complete absence of the external ear and ear canal). Microtia is not very common, occurring in just 1 out of 8,000 births. So most parents have never even heard of this condition before their child is born with it.
In most cases, Microtia can be corrected surgically; however, no one has determined the best time in a child's development to perform the operation. Parents of children with Microtia are rightly concerned about the psychological health of their child, knowing that having only one ear carries a greater chance of being teased and singled out during the school-aged years.
In his latest book,(1) Paul Stanley, of the rock group KISS, writes about his experience of having been born with Microtia, and the name calling ("stupid ear") and teasing he received as a young boy. Unfortunately, children can be cruel and psychological damage may occur from childhood events, including feeling different, and singled-out as an outsider.
A recent study published in the Journal of Plastic, Reconstructive & Aesthetic Surgery(2) was conducted where children with Microtia were divided into groups by age (3 to 6 year olds and 7 to 10 year olds). "Children with Microtia and their parents completed two Microtia-related scales, negative emotions and Microtia social awareness, and the Behavioral Assessment System for Children(3) subscales of anxiety, depression, and social skills before surgery and one year after surgery."
The study concluded that "all participants and their parents reported improved psychological functioning postoperatively. However, older children may be at greater risk of psychological concerns given the longer time they have to cope with the impact of Microtia on self-image and exposure to social stressors. Undergoing reconstructive surgery earlier may be a protective factor for children with Microtia."
Microtia surgery may performed using different techniques. One Craniofacial and Reconstructive Surgeon, Dr. Sheryl Lewin (co-author of the study cited), customizes a porous polyethylene (Medpor or Su-Por) implant to form the structure of the ear. Reconstruction with this technique can take place as early as age three. The implant is designed to match the normal ear; however, the new ear is created to be adult-sized. The implant is then covered by the patient's own tissue and skin. Though technically complex, this surgery can create a very realistic appearance with minimal pain.
(1) Stanley, P. (2014) Paul Stanley, Face the Music, A Life Exposed HarperOne, San Francisco, CA
(2) Pre and post-operative psychological functioning in younger and older children with microtia
Johns A.L., Lucash R.E., Im D.D., Lewin S.L. (2015) Journal of Plastic, Reconstructive and Aesthetic Surgery, 68 (4) , pp. 492-497.
(3) Behavioral Assessment of Children…– Second Edition (BASC-2)