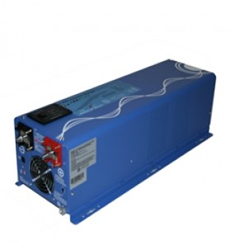 Louisville, KY (PRWEB) March 26, 2014
The Mid America Trucking Show will kick off from Louisville, Kentucky and bring together companies from all over the globe looking to showcase their newest products and technologies in the advancement of the trucking industry. Among those exhibitors will be AIMS Power, coming all the way from Reno, Nevada, to bring their full line of over 50 different power inverters directly to one of their biggest markets: truckers.
Power inverters are key in this market as more states are passing laws banning idling and as the cost of fuel continually rises. When costs are already this high, why spend more keeping your truck idling and consuming fuel? AIMS Power instead suggests adding a power inverter/inverter charger along with a deep cycle battery bank so you have all the power you need to keep your truck comfortable on demand and without the added expenses.
Running appliances like microwaves, coffee pots, TVs, cell phone chargers, laptop chargers, lamps and mini-fridges are all easily handled just by adding an inverter to the system. A DC to AC inverter would use the power stored in a battery bank to run when the vehicle is off, and can continue to run when the truck is driving down the road, as the alternator is generating charge. AIMS Power currently offers their 2000 Watt Low Frequency Pure Sine Inverter Charger as a go-to for truckers. It supplies clean and reliable pure sine power to run microwaves and computers. And when shore power is available, it will function as a battery charger, as well as pass through the AC power so you can always run your essential loads.
For more information on how AIMS Power can help outfit your truck stop by and see their friendly sales team at Booth #61181 in the West Wing of the Kentucky Expo Center. Be sure not to miss other great events at the Mid America Truck Show-including a free Gretchen Wilson concert and much more.
AIMS Power has become a multimillion dollar company because of commitment to the inverter industry. Inverters will be sold worldwide regardless, but innovation combined with excellent customer service separates AIMS Power from the competition. Buying an inverter is almost never a cut-and-dry process so AIMS Power prides itself on being the most accessible company in the inverter industry when it comes to technical support and providing quality information to our customers via AIMS Power's communication platforms. Inverter users call and e-mail AIMS Power's technical support and customer service teams daily from all over the world with issues ranging from aftermarket boat upgrades to backup power systems during hurricane season, and they always reach a real person with a real commitment to solving their problem — no matter how big or small. To contact the AIMS Power Inc., simply call (775)359-6703 or e-mail them at sales(at)AIMScorp(dot)net. Like us at Facebook.com/AIMSpowerInverters and follow us on Twitter @AIMSpower for more inverter information and AIMS Power promotions.