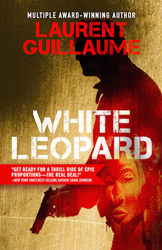 An eye-popping, nuanced look at modern-day Africa.
New York, New York (PRWEB) February 18, 2016
Mystery and thriller publisher Le French Book recently introduced a new award-winning French writer to the US market, with the release of White Leopard, by Laurent Guillaume. This intensely true-to-life story captures the struggle of a poor country in the grips of drug lords and corruption and of people with fractured pasts struggling to survive.
"Gritty, raw, authentic," this fast-paced noir with a modern African twist is on sale for 99 cents on Kindle through February 20, in a special mid-winter sale.
In Bamako, Mali, everything is possible and nothing is certain. A man torn between two continents finds himself in a dangerous confrontation between tradition and corruption. Solo is a former cop who ran away from a dark past in France to start his life over again in Bamako, Mali, as a PI. An ordinary case turns out to be not so ordinary. The drug mule gets her throat slit. The French lawyer is too beautiful and too well-informed. The cocaine is too plentiful.
This vivid tale was inspired by a real case that occurred while the author was stationed in Mali as advisor to the local police.
Laurent Guillaume, a former police officer, writes novels and screenplays. In law enforcement, he worked anti-gang, narcotics, financial crimes, and served in Mali as advisor to the local police.
Praise
"A thrill ride of epic proportions—the real deal! The perfect combination of street smarts and literary talent." Craig Johnson, New York Times best-selling author of the Walt Longmire mysteries.
"Fans of classic hard-boiled PI fiction will relish Guillaume's book, a tale of high-level corruption that will resonate with James Ellroy readers." — Publishers Weekly
"As hard-boiled as it gets." —Booklist
"West Africa is brought vividly to life in this enthralling, fast-paced noir." —Foreword Reviews
"This welcome translation will open up a new audience for one of France's most respected thriller writers... Solo Camara is brutal, dangerous and clever, but he is all too vulnerable." —Crime Fiction Lover
The book
WHITE LEOPARD by Laurent Guillaume, translated by Sophie Weiner Le French Book; November 19, 2015 — Trade paperback $16.95; 240 pages ISBN: 978-1-9394-7450-6 e-book: 978-1-9394-7451-3 - hardback (library edition): 978-1-9394-7452-0
About Le French Book
Le French Book (http://www.lefrenchbook.com) is a New York-based publisher that brings France's best mysteries and thrillers to new readers across the English-speaking world. Its motto is: "If we love it, we'll translate it."
©2016 Le French Book, Inc. All rights reserved. Information is subject to change without notice.